.webdesign
The Whys And The Hows Of Textures In Web Design - Smashing Magazine. Advertisement Texture is becoming integral to design.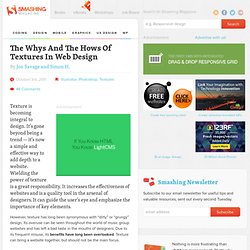 It's gone beyond being a trend — it's now a simple and effective way to add depth to a website. Wielding the power of texture is a great responsibility. It increases the effectiveness of websites and is a quality tool in the arsenal of designers. It can guide the user's eye and emphasize the importance of key elements. 16 Pixels: For Body Copy. Anything Less Is A Costly Mistake - Smashing Magazine. 16 Pixels: For Body Copy.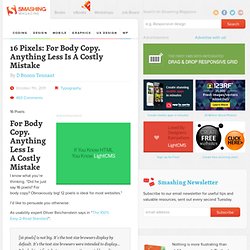 Anything Less Is A Costly Mistake Advertisement. Information Architects – The 100% Easy-2-Read Standard. By Oliver Reichenstein Most websites are crammed with small text that's a pain to read.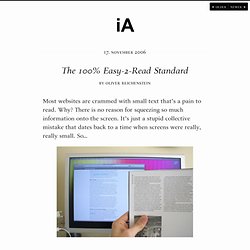 Why? There is no reason for squeezing so much information onto the screen. Free E-Commerce WordPress Theme: Balita - Smashing Magazine. Advertisement In this post we release yet another freebie: the Balita WordPress theme, a theme dedicated to shops that sell products for children.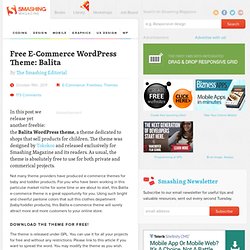 The theme was designed by Tokokoo and released exclusively for Smashing Magazine and its readers. As usual, the theme is absolutely free to use for both private and commerical projects. Not many theme providers have produced e-commerce themes for baby and toddler products. For you who have been working in this particular market niche for some time or are about to start, this Balita e-commerce theme is a great opportunity for you. How to Create Tabs in WordPress Settings Pages. Advertisement Using tabs in a user interface can help you better organize content, so it's only natural that WordPress themes that have a lot of options would benefit from tabs on their settings page.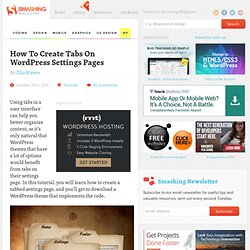 In this tutorial, you will learn how to create a tabbed settings page, and you'll get to download a WordPress theme that implements the code. Overview. Create Perfect Emails For Your WordPress Website - Smashing WordPress. Advertisement Whatever type of website you operate, its success will probably hinge on your interaction with your audience.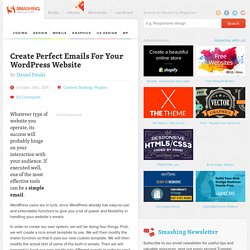 If executed well, one of the most effective tools can be a simple email. WordPress users are in luck, since WordPress already has easy-to-use and extendable functions to give you a lot of power and flexibility in handling your website's emails. In order to create our own system, we will be doing four things. First, we will create a nice email template to use. 10 jQuery Plugins to Enhance your User Interfaces. With a recently estimated over 20 million websites currently using jQuery it is essential to know what jQuery plugins there are out there in order to stay with the web design trend.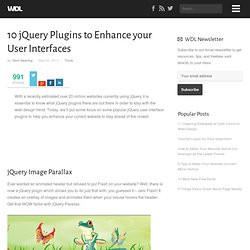 Today, we'll put some focus on some popular jQuery user interface plugins to help you enhance your current website to stay ahead of the crowd! jQuery Image Parallax Ever wanted an animated header but refused to put Flash on your website? Well, there is now a jQuery plugin which allows you to do just that with, you guessed it – zero Flash! 27 Examples of Color Usage in Web Design. Here on WDL, we've discussed how colors can be used to invoke various emotions.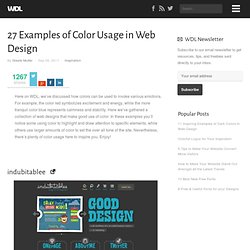 For example, the color red symbolizes excitement and energy, while the more tranquil color blue represents calmness and stability. Here we've gathered a collection of web designs that make good use of color. 10 New Twitter Tools That Will Get You Tweeting. Whether you're new to Twitter or an experienced user, Twitter tools make everything easier.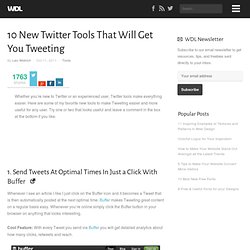 Here are some of my favorite new tools to make Tweeting easier and more useful for any user. Try one or two that looks useful and leave a comment in the box at the bottom if you like. 1. Send Tweets At Optimal Times In Just a Click With Buffer. HTML5 & CSS3: Take Your Design to Another Level. While both languages for HTML5 and CSS3 aren't fully complete yet, taking the time time to familiarize yourself with some of the pointers in this post can really help you achieve that clean look and feel for your site.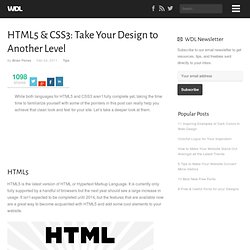 Let's take a deeper look at them. HTML5 is the latest version of HTML or Hypertext Markup Language. It is currently only fully supported by a handful of browsers but the next year should see a large increase in usage. It isn't expected to be completed until 2014, but the features that are available now are a great way to become acquainted with HTML5 and add some cool elements to your website. Steve Jobs famously refuses to allow Flash on the iOS due to the many bugs and crashes it experiences, therefore, learning how to use the more intricate features of HTML5 is going to be a must for those who want to develop apps and iOS-friendly websites.
Border-radius: create rounded corners with CSS! Home / CSS3 Previews / Border-radius: create rounded corners with CSS! The CSS3 border-radius property allows web developers to easily utilise rounder corners in their design elements, without the need for corner images or the use of multiple div tags, and is perhaps one of the most talked about aspects of CSS3. Since first being announced in 2005 the boder-radius property has come to enjoy widespread browser support (although with some discrepancies) and, with relative ease of use, web developers have been quick to make the most of this emerging technology. Here's a basic example: 20 Super Clean Fonts Perfect for Minimal Style Design. 931 shares 10 Best New Free Fonts We've been on the prowl for some new free fonts to share with you. After much searching, we found quite a few, but we believe in "only the best" for WDL readers.
The fonts we've rounded up for this post are absolutely beautiful, and we know that they'll find a home in many or your… Read More.
---