le tiroir-caisse
Get flash to fully experience Pearltrees
des pièces et des billets
As you know I didn't like Color's launch a week ago . I thought the app just wasn't very good. Turns out I wasn't the only one.
On croit rêver : un des principaux ministres de la République fait une plaisanterie raciste sous les regards d'une caméra de télévision, et le problème, ce serait... Internet ! Dans la déferlante des commentaires qui entoure l'« affaire Hortefeux » depuis deux jours, il n'y a rien de plus stupéfiant, de plus consternant à mon sens, que ces brillantes analyses qui ne voient qu'un seul coupable : le Web. Notre confrère Jean-Michel Blier, dans le journal Soir3 vendredi , en a donné l'exemple le plus caricatural, en opposant les « rumeurs » et le « caniveau » véhiculés par Internet, et « les informations vérifiées comme celles du journal télévisé ». Pourquoi réagir à ce commentaire en particulier ?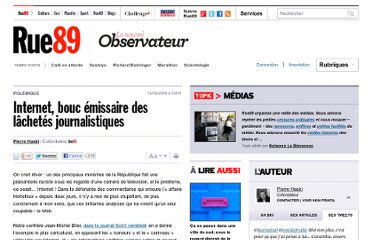 Les EGPE sont plus intéressants par les enjeux qu'ils révèlent que par les propositions qui en sortiront. Sur la question des droits d'auteurs, les Etats Généraux auront eu le mérite de faire progresser le débat. Schématiquement, deux visions s'opposent.