WordpPress
Nulled Scripts | Nulled Scripts DDL | Free templates - Part 5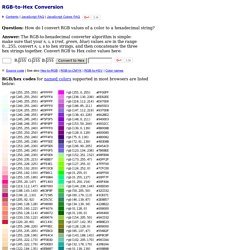 RGB-to-Hex Conversion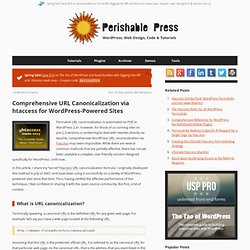 Comprehensive URL Canonicalization via htaccess for WordPress-Powered Sites
Permalink URL canonicalization is automated via PHP in WordPress 2.3+, however, for those of us running sites on pre-2.3 versions or preferring to deal with rewrites directly via Apache, comprehensive WordPress URL canonicalization via htaccess may seem impossible. While there are several common methods that are partially effective, there has not yet been available a complete , user-friendly solution designed specifically for WordPress. Until now.. In this article, I share my "secret" htaccess URL canonicalization formula. I originally developed this method in July of 2007, and have been using it successfully on a variety of WordPress-powered sites since that time.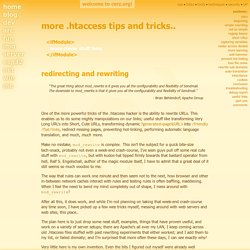 <ifModule> more clever stuff here </ifModule> redirecting and rewriting "The great thing about mod_rewrite is it gives you all the configurability and flexibility of Sendmail. The downside to mod_rewrite is that it gives you all the configurability and flexibility of Sendmail." - Brian Behlendorf, Apache Group
Top News Headlines, Daily News, Latest Updates, News and Information on the Internet
powered by… « the//web//list
One News is a WordPress theme that allows you to turn your WordPress site into a news aggregator similar to Popurls or Alltop . One News comes in a basic free version or a premium version which contains a lot more goodies. Light Style Dark Style One News Premium Features
One News: Popurls AllTop Clone for WordPress | Premium WordPress Themes - PremiumWP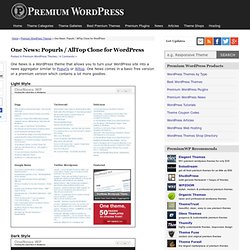 Fuzzy SEO Booster
Almost a year ago, Janko Jovanovic , posted a guide on how a little xHTML and CSS can duplicate the Apple.com store breadcrumb trail. Today, I'm going to show you how to apply Janko's code to WordPress using Breadcrumb NavXT. Ok, now with the requirements.
Quick and Easy Apple.com Style Breadcrumb Trail for WordPress | Mtekk's Crib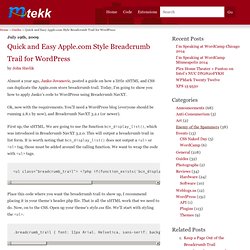 Put icon inside input element in a form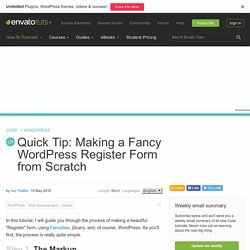 In this tutorial, I will guide you through the process of making a beautiful "Register" form, using Fancybox , jQuery, and, of course, WordPress. As you'll find, the process is really quite simple. Step 1. The Markup
Quick Tip: Making a Fancy WordPress Register Form from Scratch
Tutorial: Creating Custom Write Panels in WordPress | Function Web Design & Development Blog -
15 Best Wordpress Cheat Sheets For Designers And Developers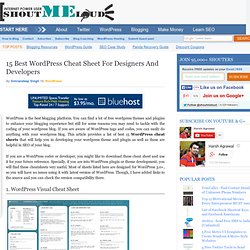 WordPress is the best blogging platform. You can find a lot of free wordpress themes and plugins to enhance your blogging experience but still for some reasons you may need to tackle with the coding of your wordpress blog. If you are aware of WordPress tags and codes, you can easily do anything with your wordpress blog.
PHP is one of the most popular scripting languages on the internet today, and one of the easiest to get into. Whether you're a PHP newbie, or an experienced code-slinger, there is always something new to discover.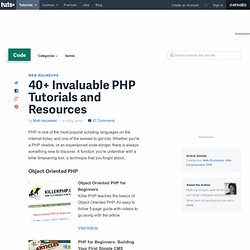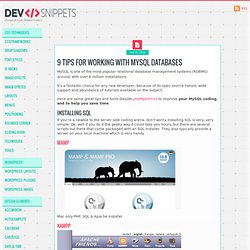 MySQL is one of the most popular relational database management systems (RDBMS) around, with over 6 million installations. It's a fantastic choice for any new developer, because of its open source nature, wide support and abundance of tutorials available on the subject. Here are some great tips and tools (beside phpMyAdmin ) to improve your MySQL coding, and to help you save time . Installing SQL If you're a newbie to the server side coding arena, don't worry.
We couldn't find that plugin. Maybe you were looking for one of these? Showing 1-8 of 161 plugins 1 2 … 21 Next »