Achats
On December 27, 2012 Maxfield & Oberton Holdings, LLC (the "Company") stopped doing business and filed a Certificate of Cancellation with the Secretary of State of Delaware, thereby ceasing to exist pursuant to applicable Delaware law. The MOH Liquidating Trust has been established to deal with and, to the extent they are valid, pay, to the extent assets are available, certain claims which have been, and may later be, asserted against the Company. If you believe you have a claim against the Company, please click on link below to obtain the Proof of Claim form which you must complete and submit to the Trustee of the MOH Liquidating Trust.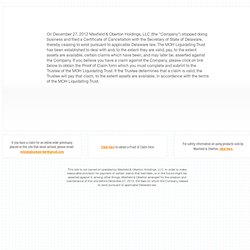 Achats - Stickers muraux - www.e-glue.fr
Achats - Bieres - Brouette de Bières
Achats - Shoes - etoshoes.com
Achats - Fringues - Champion Hoodie Remix - Which hoodie do you
New On Sharky Extreme PC Buyer's Guide for Gaming Enthusiasts -- May 2012 Our latest Enthusiast Gaming Guide arrives with the top recommendations for PC system components that offer the best combination of power and value in a sub-$2000 system. The May edition is loaded with new recommendations to check out, including updated motherboard selections for both builds. PC Buyer's Guide for Entry-Level Gaming -- April 2012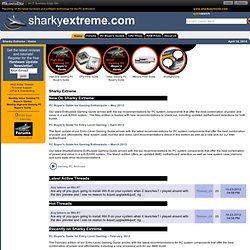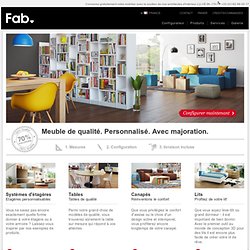 Nous avons le plaisir de vous informer de nouveaux changements. Fab Europe vendra exclusivement la collection de meubles sur mesure de Fab Designed by you. Une manière moderne de vivre et d'habiter des meubles dessinés pour vous à des prix jusqu'á 70% moins chers qu'en magasin. Avec notre outil de configuration facile à utiliser, vous pouvez créer vous même votre lit, votre bureau, votre table ou étagère de vos rêves idéal pour votre intérieur.
Achats - Fringues - T-Shirt - Camiseteria
Achats - Fringues - T-Shirt - SIXPACK FRANCE
Achats - Fringues - T-Shirt - Oddica.com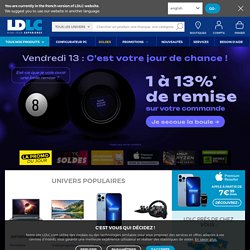 Commandez facile avec LDLC.com, spécialiste de la vente à distance de produits informatiques et High Tech. Si vous hésitez sur l'achat de matériel informatique, d'un pc portable gamer, d'une TV LED, d'un meuble TV, d'un serveur nas, de pièces détachées type carte mère, boitier disque dur, carte réseau ou encore de périphériques comme une imprimante multifonction laser, un micro casque, une clé usb, une souris PC, un écran PC, référez-vous aux avis de nos clients et aux différents tests. Nous proposons également de nombreux consommables (cartouche imprimante, toner etc...) et des smartphones. Profitez également de tous nos services pour acheter en toute sérénité : les packs Garanties & Services (classique, confort, expert), les options de livraison (relais colis, retrait dans nos points de vente...livraison dom tom) et les modes de paiement sécurisés (CB, en trois fois...). Enfin, pour répondre à toutes vos questions, rendez-vous sur votre espace d'aide.
Achats - Fringues - Femmes Enceinte - L'avenue des bébés
Achats - Fringues - Femmes Enceinte - 1 et 1 font 3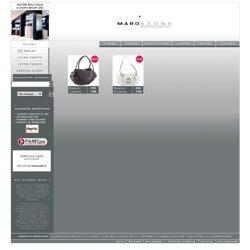 Après 20 ans d'expérience dans la vente d'articles de maroquinerie, Marostore voit le jour en 2006 afin de donner une plus grande dimension à l'affaire familiale. Toujours soucieux d'apporter plus de choix, Marostore associe la vente traditionnelle à la vente en ligne grâce à un open space de 165m² offrant une grande palette de marques comme Lancaster , Le Tanneur , Thierry Mugler , Gil Holsters , Calvin Klein , Ted Lapidus , Lorenzo
Achats - Maroquinerie - Marostore
Achats - Fringues - T-Shirt - laFraise.com
Achats - Bébé - BBliste
Design By Humans features graphic tees, phone cases and wall art prints from over 15,000 diverse international artists from all around the world. Embedded in the culture of Design By Humans is a passion for brilliant design, detailed illustration and a strong appreciation for all things creative. Shop over 2,000 designs in our store, all of which can be found across different shirt and phone case categories like funny, pop culture, abstract, fine art, and many more. Empowering Artists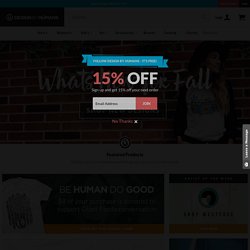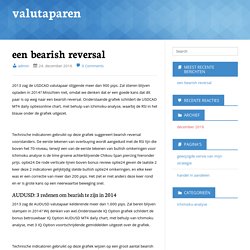 Antonin + Margaux On aime les petites initiatives graphiques, alors quand Antonin et Margaux me mailent pour présenter le coin "Shop" de leur portfolio et qu'en plus c'est fait avec goût, ça me fait plaisir de vous le présenter. Pour le moment [...] Mise à jour !
Achats - Matos - Mult e-Pass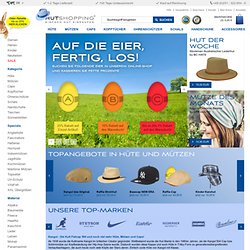 Achats - Fringues - Chapeaux - Hutshopping.de
Kangol - Die Kult Flatcap 504 und noch viel mehr Hüte, Mützen und Caps! Ab 1938 wurde die Kultmarke Kangol im britischen Cleator gegründet. Weltbekannt wurde die Hut-Marke in den 1980er Jahren, als die Kangol 504 Cap bzw. Schirmmütze zur Kopfbedeckung der Hip-Hop-Szene wurde. Dadurch wurden diese Kappe und auch Hüte in Trilby-Form zu generationsübergreifenden Verkaufsschlagern, die auch heute noch viele Köpfe der Stars zieren.