Technology
Google-search-infographic.gif 800×8,848 pixels. Android Lag, Attributed To Core System Framework, Here To Stay. Last night, Android engineer Dianne Hackborn published a blog entry detailing some of the hurdles her platform faces in working its way toward the lofty goal of a completely lag-free UI.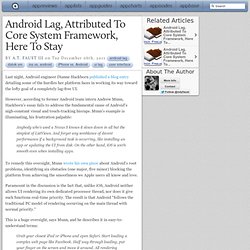 However, according to former Android team intern Andrew Munn, Hackborn's essay fails to address the fundamental cause of Android's nigh-constant visual and touch-tracking hiccups. Munn's example is illuminating, his frustration palpable: Anybody who's used a Nexus S knows it slows down in all but the simplest of ListViews. iMakeMemes: Memes on Your Mac. 24 November '11, 04:35pm Follow If you can't get through the day without a Business Cat, a Foul Bachelor Frog or an Excited Kitten, this app is for you.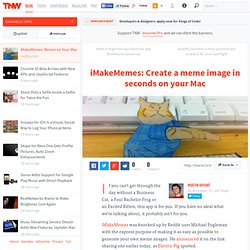 If you have no ideal what we're talking about, it probably isn't for you. iMakeMemes was knocked up by Reddit user Michael Fogleman with the express purpose of making it as easy as possible to generate your own meme images.
Apple
How to Calibrate Your HDTV and Boost Your Video Quality in 30 Minutes or Less. Don't know about you... but TVs I've owned have Store and Home modes, Store is horribly bright, high contrast, Home is sensibly done.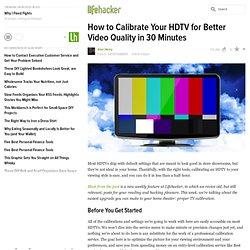 Last time this article came around it only needed a DVD player. Now you've made it even harder to do. You *can* use a DVD player, but considering no DVD player is capable of 1080p/i display, it wouldn't make much sense. You can use an Xbox 360 if you download and burn the mp4 version of the calibration disc, but frankly, if you're calibrating your HDTV so you can actually, you know, enjoy the HD part of that, you should make sure the video you're calibrating to is actually displayed in true HD, not upconverted or 720p. Astronomy Forums | Telescope Forums & Reviews | Astronomy Community. I assume that most of this applies to the 6SE also, but I have only tested on my 8SE which is about 4-5 years old, but upgraded to the newest firmware.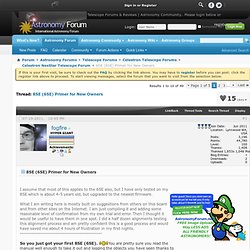 What I am writing here is mostly built on suggestions from others on this board and from other sites on the Internet. I am just compiling it and adding some reasonable level of confirmation from my own trial and error.
---