iPhone/iPad
Use Siri to update Twitter and Facebook from your iPhone 4S with your voice. Apple's voice assistant Siri is hooked into iOS 5 in a big way, with access to your contacts, phone, text messaging, reminders, calendar and more.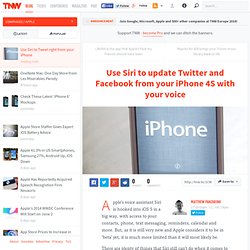 But, as it is still very new and Apple considers it to be in 'beta' yet, it is much more limited than it will most likely be. There are plenty of things that Siri still can't do when it comes to iOS, even using some built-in functionality like Twitter integration. But if you've been hankering to use Siri to send Tweets for you, there is a simple workaround that you can use. Although Siri has no access to Twitter functions yet, it can still text message for you. This becomes an important factor when you remember that Twitter actually began its life as a text-message based service. The perils of possession without utilization. [Updated with new charts including data from StatCounter and not NetMarketshare] Generally speaking there is an equivalence drawn between iOS and Android as technologies and even as user experiences.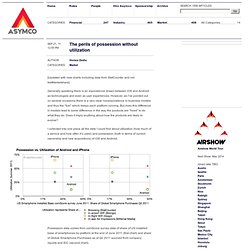 However, as I've pointed out on several occasions there is a very clear nonequivalence in business models and thus the "fuel" which keeps each platform running. But does this difference in models lead to some difference in the way the products are "hired" to do what they do. Does it imply anything about how the products are likely to evolve? I collected into one place all the data I could find about utilization (how much of a service and how often it's used) and possession (both in terms of current ownership and new acquisitions) of iOS and Android. Why the iPhone's Speaker is on the Bottom of the Handset. Have you ever wondered why Apple chose to place the iPhone's speaker at the bottom of the handset?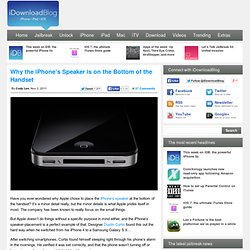 It's a minor detail really, but the minor details is what Apple prides itself in most. The company has been known to really focus on the small things. But Apple doesn't do things without a specific purpose in mind either, and the iPhone's speaker-placement is a perfect example of that. How does the iPhone 4S camera stack-up against other cameras? iPhone 4S quickly jumps to second-most popular camera phone on Flickr. By Josh Ong Little more than a month after arriving on the market, Apple's latest handset has already become the second-most popular camera phone on photo sharing website Flickr, behind only its predecessor, the iPhone 4.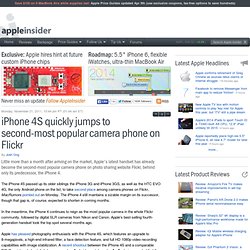 The iPhone 4S passed up its older siblings the iPhone 3G and iPhone 3GS, as well as the HTC EVO 4G, the only Android phone on the list, to take second place among camera phones on Flickr, MacRumorspointed out on Monday. The iPhone 4 still maintains a sizable margin on its successor, though that gap is, of course, expected to shorten in coming months. In the meantime, the iPhone 4 continues to reign as the most popular camera in the whole Flickr community, followed by digital SLR cameras from Nikon and Canon. Apple's best-selling fourth-generation handset took the top spot several months ago.
---