Apple
iPhone 4S quickly jumps to second-most popular camera phone on Flickr
By Josh Ong Little more than a month after arriving on the market, Apple's latest handset has already become the second-most popular camera phone on photo sharing website Flickr, behind only its predecessor, the iPhone 4. The iPhone 4S passed up its older siblings the iPhone 3G and iPhone 3GS, as well as the HTC EVO 4G, the only Android phone on the list, to take second place among camera phones on Flickr, MacRumors pointed out on Monday. The iPhone 4 still maintains a sizable margin on its successor, though that gap is, of course, expected to shorten in coming months.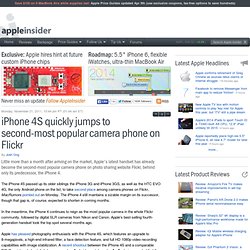 A Sister's Eulogy for Steve Jobs - NYTimes.com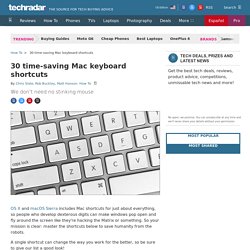 Posted 05/11/2011 at 1:36pm | by Cory Bohon Keyboard shortcuts are the lifeblood of many productive Mac users. Not only can keyboard shortcuts make for a nicer user experience and cut down on the time needed to do a task, they can also just be plain cool. Mac OS X has many shortcuts ready and willing to do your bidding, but also has many hidden and unknown shortcuts.
iOS 5: Complete list of 200+ New Features | TechZoom
How To Install an SSD in a Unibody MacBook Pro
Posted 03/08/2011 at 3:21pm | by Florence Ion If the performance of your unibody MacBook Pro just isn't cutting it, it might be time to consider swapping out the stock hard drive for something a little more speedy, like a solid-state drive. And actually, when we say a little more speedy, we actually mean that you can double the speed of your current system by swapping out the stock hard drive for an SSD. There are plenty of manufacturers who offer SSDs made especially for your unibody MacBook Pro, and physically installing the hardware is actually quite a cinch. Follow along and we'll show you how.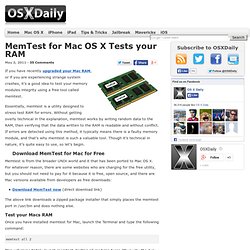 MemTest for Mac OS X Tests your RAM
If you have recently upgraded your Mac RAM or are experiencing strange system crashes, it's a good idea to test your memory modules integrity using a free tool called memtest. Download MemTest for Mac for Free Memtest is from the broader UNIX world and it that has been ported to Mac OS X. For whatever reason, there are some websites who are charging for the free utility, but you should not need to pay for it: Download MemTest now (direct download link)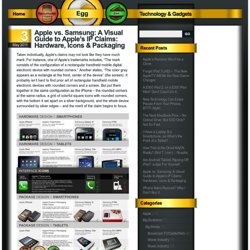 Apple vs. Samsung: A Visual Guide to Apple's IP Claims: Hardware, Icons & Packaging | PeanutbutterEGGDirt.com : Technology, Gadgets & the Business Therein
Taken individually, Apple's claims may not look like they have much merit. For instance, one of Apple's trademarks includes, "The mark consists of the configuration of a rectangular handheld mobile digital electronic device with rounded corners." Another states, "The color gray appears as a rectangle at the front, center of the device" (the screen). It probably isn't hard to find prior art of rectangular handheld mobile electronic devices with rounded corners and a screen. But put them together in the same configuration as the iPhone – the rounded corners at the same radius, a grid of colorful square icons with rounded corners, with the bottom 4 set apart on a silver background, and the whole device surrounded by silver edges – and the merit of the claim begins to focus. There are plenty of ways to design a phone, and nothing before the iPhone could have possibly been mistaken for an iPhone.