Trendwatching
Trends in the Media. Trendwatching.com has been scanning the globe for consumer trends and related innovations since 2002.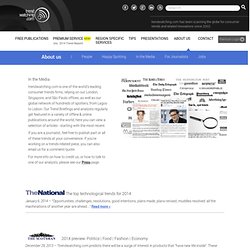 Premium Login In the Media. A Complete List of the Many Forms of Web Marketing for 2008. This is an updated revision of the 2007 version, which was one of the top viewed posts for the entire year.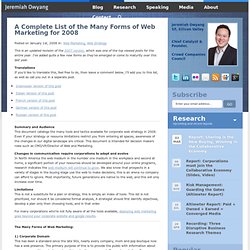 I've added quite a few new forms as they've emerged or come to maturity over this last year. Translations If you'd like to translate this, feel free to do, then leave a comment below, I'll add you to this list, as well as call you out in a separate post. Indonesian Version of this postItalian Version of this postFrench version of this postGerman version of this postRussian version of this post. Thumb Calendar 2008 by Adam Sporka. This is the home page of the Thumb Calendar project.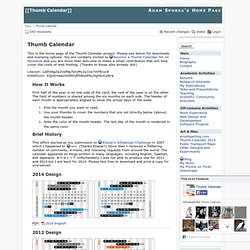 Please see below for downloads and licensing options. You are cordially invited to become a Thumb Calendar fan on Facebook and you are more than welcome to make a small contribution that will help cover the costs of web hosting. (Thanks to those who already did!) Litecoin: LaEht8pZaZVsf9g7VrxMc2yJ1w7mPB1e3t KittehCoin: KQoKrnaa2XGMmjtfSBusPSLi5gHkoCpRra.
---