Bouddhisme
iGongyo. Description Helping chanters in the following countries:United StatesUnited Kingdom ItaliaBrazilSingaporeJapanMalaysiaPhilipinesNederlandCanadaIndiaGermanySweden As featured in iTunes!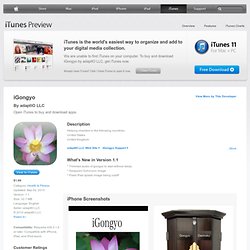 iGongyo is an elegant app that will get you to chant quickly and without resistance. No confusing options to configure before you begin chanting. Simply start the application and begin your practice. Instagram. Kotori_satomi : Welcome to Japan! 11.8 SGI... Instagram. October 2: SGI World Peace Day | Resource Center. At Tokyo's Haneda Airport (Oct. 2, 1960) October 2 is celebrated within the SGI as World Peace Day, marking a key milestone in the international development of Nichiren Buddhism, with its goal of contributing to building lasting peace throughout the world.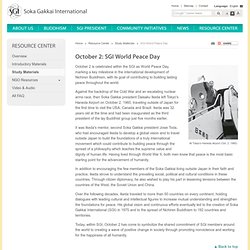 Against the backdrop of the Cold War and an escalating nuclear arms race, then Soka Gakkai president Daisaku Ikeda left Tokyo's Haneda Airport on October 2, 1960, traveling outside of Japan for the first time to visit the USA, Canada and Brazil.
50 ans voyage Europe SGI
Masterclass à l'Université SOKA. Mars 16th 2008 Video Promo. Haha SGI song. Chaîne de soka1118. Les trois présidents fondateurs. Révolution humaine. Daisaku Ikeda. Soka University founder Daisaku Ikeda was recently presented with an honorary professorship, his 330th academic honor, from Bohai University in Jinzhou City, Liaoning Province, China.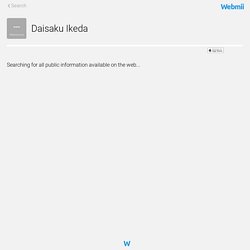 A conferral ceremony was held by. Un Sage Perçoit les Trois Phases de la Vie. Un sage est celui qui perçoit clairement les trois phases de la vie.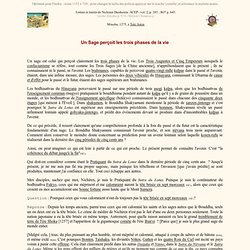 Les Trois Augustes et Cinq Empereurs auxquels le confucianisme se réfère, tout comme les Trois Sages [de la Chine ancienne], n'appréhendaient que le présent ; ils ne connaissaient ni le passé, ni l'avenir. Les brahmanes, capables de percevoir quatre-vingt mille kalpas dans le passé et l'avenir, étaient, dans une infime mesure, des sages. Les personnes des deux véhicules du Hinayana, connaissant le Dharma de cause et d'effet pour le passé et le futur, étaient des sages supérieurs aux brahmanes. Les bodhisattvas du Hinayana percevaient le passé sur une période de trois asogi kalpa, alors que les bodhisattvas de l'enseignement commun (tsugyo) pratiquaient le bouddhisme pendant autant de kalpa qu'il y a de grains de poussière dans un monde, et les bodhisattvas de l'ensignement spécifique (bekkyo) connaissaient le passé dans chacune des cinquante deux étapes [qui mènent à l'Eveil ].
Tina Turner - Je ne veux pas me battre plus. Tina Turner Chanting. SGI version finale. 16 March 2008 Milan. Tina Turner & Mick Jagger , Brown Sugar. Ikeda sensei - i have a dream. Bouddhisme. Untitled. SGI-USA East Territory Taiko Drummers - Rock The Era. Sho-Hondo)
---