Palettes
Terrasse entièrement recyclée | Votre Maison Votre Jardin
Au salon Jardins, Jardin des Tuileries (75), j'ai fait une halte devant la terrasse de jardin de Capsel. Voici une terrasse entièrement recyclée avec des matériaux de récupération comme des caisses à vin pour faire des jardinières, des palettes pour faire le sol, des bocaux à conserve pour faire des contenants, des planches de chantier pour faire une palissade, un grand fût d'huile coupé en 2 pour faire des tables basses, un vieux transat ; le tout sur le thème de la couleur rouge. Bocaux à conserve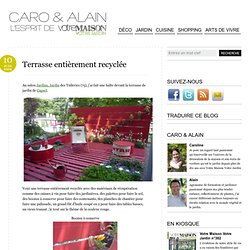 Une desserte en palette Si vous avez l'occasion de récupérer des palettes en bois, Songez à les empiler pour créer une desserte ou un plan de travail en extérieur. Il suffira de poncer un peu de bois (pour éviter les échardes) et de passer une couche de vernis pour obtenir un résultat très original. Pour plus de commodité, fixez des roues sous la palette pour pouvoir la déplacer. Bac de jardinage en palette Si vous rêvez d'avoir un jardin potager, mais que vous ne possédez qu'une terrasse, vous apprécierez très certainement cette idée ingénieuse de Upnea, qui transforme une palette de bois en bac de jardinage.
- Les palettes en bois
upcycling goes modern
Parmi les déchets qu'on peut trouver facilement, s'il en est un universel, c'est bien la palette ! Avec un peu d'imagination et de travail, on peut en faire des trucs assez sympas et utiles. Petits exemples : Si vous êtes un peu bricolo, vous allez facilement pouvoir en customiser une pour vous faire un bon meuble TV. Il faut pour ça reclouer quelques planches, ajouter des roulettes de caddie si vous êtes vraiment récup à fond, ou bien en acheter un jeu neuf. J'aime le côté utile, car au final, c'est super pratique de pouvoir ranger les magazines, la box internet , etc… Même en bois brut, ça rend bien finalement.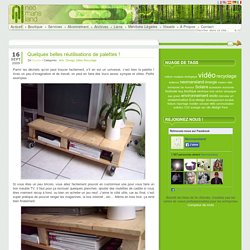 Summer is waning, and since I am a diehard autumnal girl, I'd usually be very excited by now. But I have to be honest — this lush and vibrant pallet vertical garden is making me want to stay in summer for another month or two. There have been many pallet projects and many vertical garden projects, but none combine the two elements as well as this tutorial developed by Fern Richardson of Life on the Balcony and recreated by Steph of the local spoon. I like this so much, I might have to squeeze it in before I focus entirely on fall projects. — Kate Have a DIY project you'd like to share?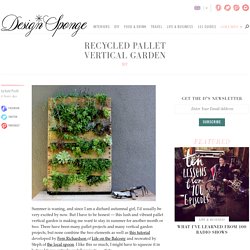 architecture recyclage palette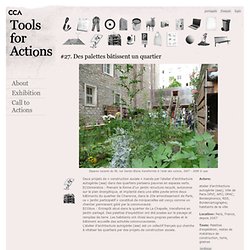 Des palettes bâtissent un quartier | CCA Actions
Deux projets de « construction sociale » menés par l'atelier d'architecture autogérée (aaa) dans des quartiers parisiens pauvres en espaces verts. ECOinterstice : Prenant la forme d'un jardin-structure recyclé, autonome sur le plan énergétique, et implanté dans une allée pavée entre deux bâtiments du quartier de Charonne, dans le 20e arrondissement de Paris, ce « jardin participatif » constitué de miniparcelles est conçu comme un chantier permanent géré par la communauté. ECObox : Entrepôt situé dans le quartier de La Chapelle, transformé en jardin partagé. Des palettes d'expédition ont été posées sur le pavage et remplies de terre.
fabriquer une chaise longue en palette
Plan chaise longue, Esprit Cabane, idées pour meubler son jardin
Le plan et la vidéo ci-dessous permettent de construire soi-même des transats pour meubler le balcon, la terrasse ou le jardin. Ultra-confortables, ces chaises longues au dossier relevable, sont robustes et design. Pour chaque chaise longue en bois : - 3 palettes 60 x 80 cm - 4 tasseaux 15 mm x 2,5 cm x 2 m - 2 charnières inox pour porte de meuble - 2 planches de coffrage 27 mm x 25 cm x 4 m (apporter une scie au dépôt matériaux) - 4 équerres de chaise Cliquer sur la vignette, une nouvelle fenêtre s'ouvrira Découper les 3 palettes 60 x 80 cm comme indiqué sur le plan.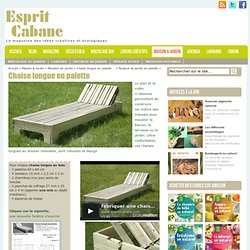 Idées recup ou comment faire un potager sur une terrasse - Oh! C'est le Ton!
Versatile Sofa With Storage Is Made From Recycled Wooden Pallets
Aparte/via Reused wooden pallets are popping up in designs everywhere nowadays, but there's debate as to whether they're "palletable" or not. It's a tricky subject, but with this clean-looking two-seater, French firm Aparte has a simple solution: paint it black and voilà, recycled chic. Aparte /via Nicknamed "Woodstock," this canapé is intended to be something that could be produced for the larger market: Woodstock is a sofa, born of participation in the project of Villa Waste in Nantes, whose manufacture requires only recycled materials and offers the possibility of a product reproducible in series.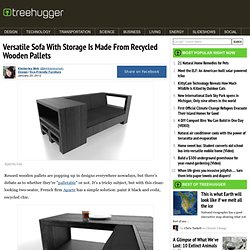 Terrarium en bocal Vous avez la main verte, mais vous ne disposez pas de serre pour faire germer vos graines ? Voilà une idée astucieuse pour faciliter la germination de vos semences.
- Jardinage et extérieur
Good news and bad news. I had planned to film a short video showing you how to make a pallet garden, but the weather didn't cooperate. I was stapling the landscape fabric onto the pallet when it started drizzling and got really windy.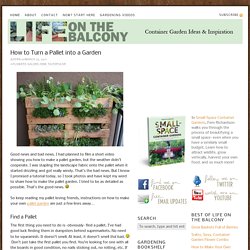 Images: Be Palettø We've sung the praises of the humble shipping pallet as an amazingly versatile building component before (take a look at Lloyd's comprehensive roundup). Now a group of eleven students at Denmark's Aarhus School of Architecture have come up with a lovely outdoor pavilion that shows once again what is possible with the pallet. Dubbed Be Palettø, the temporary structure features 420 strategically-stacked pallets which give a dynamic twist to an otherwise traditional-looking public square. More images and a time-lapse video of how it was done: Be Palleto!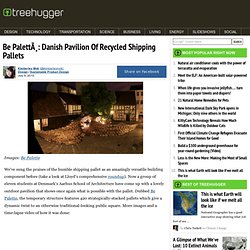 Be Palettø: Danish Pavilion Of Recycled Shipping Pallets
Pallets = bookshelves + bikerack