CV
"...easy to use without any technical expertise; if I did it, anyone can..." More Coverage... Watch this two-minute video to learn about VisualCV and how it can help you today. Watch full size video here... Tune into the latest VisualCV webinars to learn how to get more out of VisualCV.com. Every other month we host a webinar to help you use VisualCV.com to advance your career.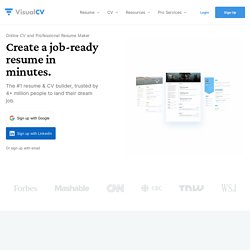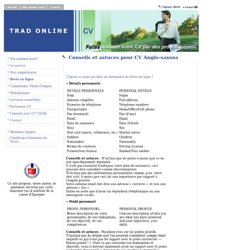 Cliquez ici pour accéder au formulaire de devis en ligne ! » Détails personnels Conseils et astuces : N'incluez pas de photo à moins que ce ne soit spécifiquement demandé. Il n'est pas essentiel d'indiquer votre date de naissance, ceci pouvant être considéré comme discriminatoire.
Trad Online CV – Des conseils pour mettre en forme votre CV au f
Probably the first CV was written by Leonardo Da Vinci 500 years ago. You can view it here. Since then things have moved slightly on, and now it's essential to have a well presented professional CV, but still many graduates get this wrong. The following page will give you all the tips to make an impressive CV What is a CV?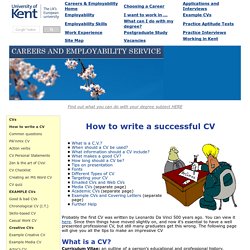 This article is part of a series called How to Write a Resume. To start this series from the beginning, read the introduction. Most of us, at some point in our careers, have applied to some job with some piece of flimsy paper called a resume. Sure, you may have poured your heart into it. You may have really wanted the job.
10 Things that Define a Killer Resume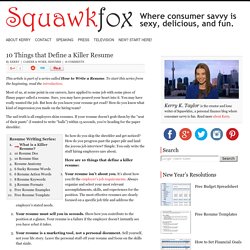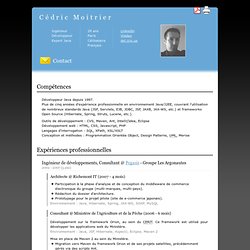 CV de Cédric Moitrier - Ingenieur de développements - Expert Jav
Développeur Java depuis 1997. Plus de cinq années d'expérience professionnelle en environnement Java/J2EE, couvrant l'utilisation de nombreux standards Java (JSP, Servlets, EJB, JDBC, JSF, JAXB, JAX-WS, etc.) et frameworks Open Source (Hibernate, Spring, Struts, Lucene, etc.). Outils de développement : CVS, Maven, Ant, Intellij'Idea, Eclipse Développement web : HTML, CSS, Javascript, PHP Langages d'interrogation : SQL, XPath, XSL/XSLT Conception et méthodes : Programmation Orientée Object, Design Patterns, UML, Merise Ingénieur de développements, Consultant @ Pegasis - Groupe Les Argonautes 2002 - 2007 (5 ans)
CV gestion de projets & enseignement
Joblighted
<div class="nojs"> JavaScript disabled or not supported by your browser. Sorry, but this site needs it. </div>