CV
en français » Votre CV nouvelle génération avec VisualCV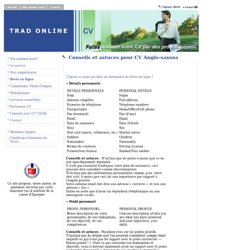 Cliquez ici pour accéder au formulaire de devis en ligne ! » Détails personnels Conseils et astuces : N'incluez pas de photo à moins que ce ne soit spécifiquement demandé. Il n'est pas essentiel d'indiquer votre date de naissance, ceci pouvant être considéré comme discriminatoire.
Trad Online CV – Des conseils pour mettre en forme votre CV au f
What is a CV? Curriculum Vitae: an outline of a person's educational and professional history, usually prepared for job applications (L, lit.: the course of one's life). Another name for a CV is a résumé . A CV is the most flexible and convenient way to make applications. It conveys your personal details in the way that presents you in the best possible light.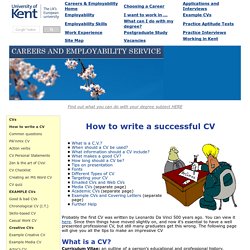 This article is part of a series called How to Write a Resume . To start this series from the beginning, read the introduction . Most of us, at some point in our careers, have applied to some job with some piece of flimsy paper called a resume. Sure, you may have poured your heart into it. You may have really wanted the job.
10 Things that Define a Killer Resume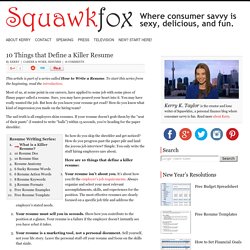 CV de Cédric Moitrier - Ingenieur de développements - Expert Jav
CV gestion de projets & enseignement
Joblighted