Startup Scene
Startup Cafe - Tools. 42 goals 42goals is a simple tool for tracking daily goals and keeping a log of daily activities.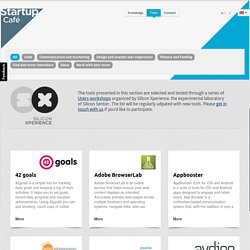 It helps you to set goals, record daily progress and visualize achievements. Cofound. WalkaboutNYC, A one day exploration of NYC technology, spaces, and culture. Tech@NYU | Building a technology culture. New York City Startup Weekend Music and Gaming. BarCamp NYC 7 | June 9th 2012 | Microsoft Offices. We Are NY Tech. Ultra Light Startups® — A community for tech entrepreneurs. NY Tech Meetup (New York, NY. Looking for More Detail Information on NYTM?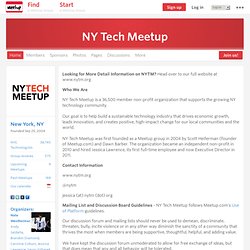 Head over to our full website at www.nytm.org Who We Are NY Tech Meetup is a 36,500 member non-profit organization that supports the growing NY technology community. Our goal is to help build a sustainable technology industry that drives economic growth, leads innovation, and creates positive, high-impact change for our local communities and the world. NY Tech Meetup was first founded as a Meetup group in 2004 by Scott Heiferman (Founder of Meetup.com) and Dawn Barber. General Assembly. GarysGuide.
---