Startup Scene
42 goals 42goals is a simple tool for tracking daily goals and keeping a log of daily activities. It helps you to set goals, record daily progress and visualize achievements.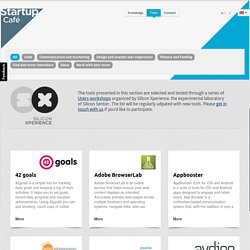 Startup Cafe - Tools
cofound
Who's invited? You are! WalkaboutNYC is an open event for anyone curious to see and enjoy the unique environments behind these technology companies.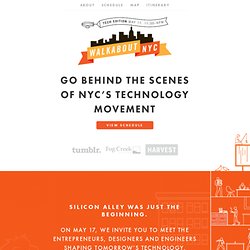 WalkaboutNYC, A one day exploration of NYC technology, spaces, and culture.
Tech@NYU | Building a technology culture
Ever wondered what it takes to be an entrepreneur? The professional and personal challenges, the high and lows, the failures and the success? Startup Weekend is a global grassroots movement of active and empowered entrepreneurs who are learning the basics of founding startups and launching successful ventures. It is the largest community of passionate entrepreneurs with over 400 past events in 100 countries around the world in 2011. The non-profit organization is headquartered in Seattle, Washington but Startup Weekend organizers and facilitators can be found in over 200 cities around the world. From Mongolia to South Africa to London to Brazil, people around the globe are coming together for weekend long workshops to pitch ideas, form teams, and start companies.
New York City Startup Weekend Music and Gaming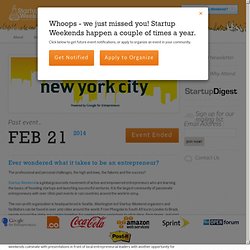 30 October 2013 After constantly hitting my Dropbox space limit, I decided to build my own distributed backup tool. What I ended up with was an external hard drive with a dedicated Raspberry Pi that keeps in sync with my laptop over the internet using BitTorrent Sync.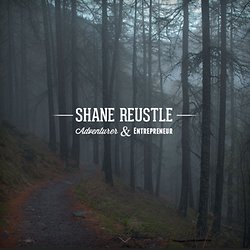 BarCamp NYC 7 | June 9th 2012 | Microsoft Offices
We Are NY Tech
Today's Featured NY Tech'R ""We're surrounded. That simplifies our problem." - Chesty Puller"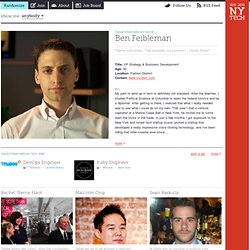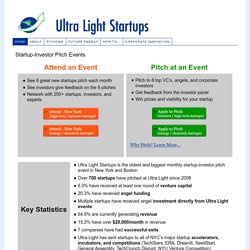 After pitching in NY in November and Boston in February, we were selected to join the Summer Blueprint Health class and are very excited for Demo Day on October 4. In May, we launched a paid private beta and are soon to release our next version of our Surgeon Engagement Platform to a group of Fortune 500 Medical Device Companies. As you can see, things are going really well, thank you for Ultra Light! Getting up there and pitching when we were still trying to craft our message was extremely helpful. The feedback was also very spot on.
Ultra Light Startups® — A community for tech entrepreneurs
NY Tech Meetup (New York, NY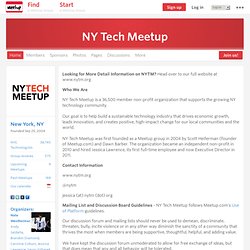 Looking for More Detail Information on NYTM? Head over to our full website at www.nytm.org Who We Are NY Tech Meetup is a 36,500 member non-profit organization that supports the growing NY technology community. Our goal is to help build a sustainable technology industry that drives economic growth, leads innovation, and creates positive, high-impact change for our local communities and the world. NY Tech Meetup was first founded as a Meetup group in 2004 by Scott Heiferman (Founder of Meetup.com) and Dawn Barber.
GarysGuide