Business Planning
Strategy - Founder Collective. Here's how we do it: Peer-to-Peer investing Everyone at Founder Collective has started a technology company.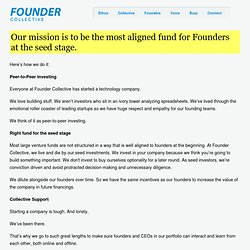 We love building stuff. We aren't investors who sit in an ivory tower analyzing spreadsheets. We've lived through the emotional roller coaster of leading startups so we have huge respect and empathy for our founding teams. Executive Summary - Artist and Art Materials USA 2009 (PDF file) - International Art Materials Association. World Internet Usage Statistics News and World Population Stats. NOTES: (1) Internet Usage and World Population Statistics are for June 30, 2012. (2) CLICK on each world region name for detailed regional usage information. (3) Demographic (Population) numbers are based on data from the US Census Bureau and local census agencies. (4) Internet usage information comes from data published by Nielsen Online, by the International Telecommunications Union, by GfK, local ICT Regulators and other reliable sources. (5) For definitions, disclaimers, navigation help and methodology, please refer to the Site Surfing Guide. (6) Information in this site may be cited, giving the due credit to www.internetworldstats.com.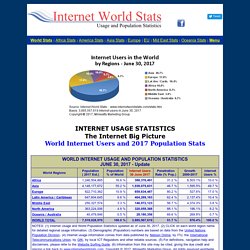 Copyright © 2001 - 2013, Miniwatts Marketing Group. All rights reserved worldwide. If I Launched a Startup. Here's what I'd do in the beginning: Incorporation (1) Entity Choice: Corporation or Corporation (2) State of Incorporation: Delaware (3) Authorized Shares in Charter: 10,000,000 Shares (4) Type of Shares: Common Stock (5) Par Value of Common: $0.0001 (6) Initial Founders Issuance: 8,000,000 Shares (7) Founders Equity Split: Depends on the Team, But Quickly and After the Awkward & Difficult Conversations (8) Vest Founders Shares?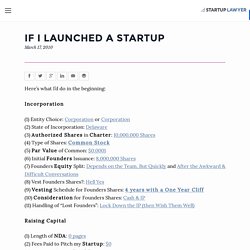 DressRush Pitch Deck. Build Complete Financial Statements for Your Startup. Create complete financial projections.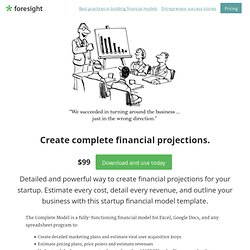 Detailed and powerful way to create financial projections for your startup. Estimate every cost, detail every revenue, and outline your business with this startup financial model template. The Complete Model is a fully-functioning financial model for Excel, Google Docs, and any spreadsheet program to: The Resource for Entrepreneurs. How to Estimate Ad Revenue When Using an Ad Network? | LinkedIn Answers. Projecting Online Advertising for Business Plans. As a consultant to tech startups, I've seen entrepreneurs planning online ventures confused when it comes to projecting advertising revenue.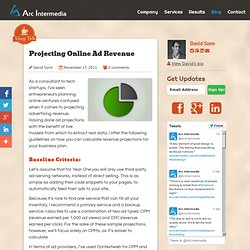 Having done ad projections with the benefit of live models from which to extract real data, I offer the following guidelines on how you can calculate revenue projections for your business plan. Baseline Criteria: How To Calculate Lifetime Value. Co-Founder Equity Calculator. How to estimate revenues/valuation of an advertising-supported internet website? - OnStartups Beta - Stack Exchange. Employee Equity: How Much? The most common comment in this long and complicated MBA Mondays series on Employee Equity is the question of how much equity should you grant when you make a hire.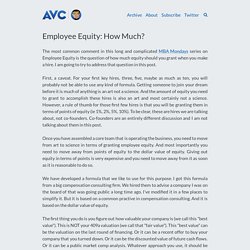 I am going to try to address that question in this post. First, a caveat. For your first key hires, three, five, maybe as much as ten, you will probably not be able to use any kind of formula. Getting someone to join your dream before it is much of anything is an art not a science. And the amount of equity you need to grant to accomplish these hires is also an art and most certainly not a science.
Alliance of Angels - Presentation Guidelines. Tell Your Story Well A successful pitch is like an engaging movie trailer – it should clearly convey the gist of your business and provoke investors to engage.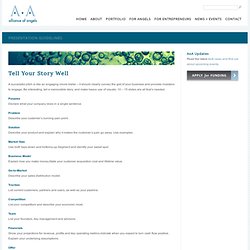 Be interesting, tell a memorable story, and make heavy use of visuals. 10 – 15 slides are all that's needed. Purpose. How I Raised $350k as a Solo Founder using these 4 Email Templates. Online Business Plan Software for Mac and PC - LivePlan. UpStart Bootcamp : Online Course. AngelList. Angel Investors and Startup Funding. Cutting Up the Founder's Pie. The Founders' Pie Calculator By Frank Demmler Several weeks ago, we took a look at the founders' pie.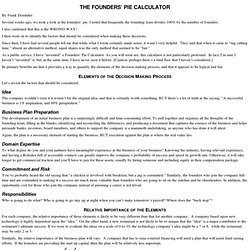 How to Divide Equity to Startup Founders, Advisors, and Employees. Since returning from MIT back in June I've been focusing on the growth of the company.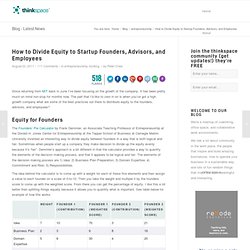 It has been pretty much on mind non-stop for months now. The part that I'd like to zero in on is when you've got a high growth company what are some of the best practices out there to distribute equity to the founders, advisors, and employees? Seedhack Founders Collaboration Agreement. Starting a new company requires inspiring early co-founders to join you in your efforts and then quickly establishing an environment of trust where everyone works hard and fairly shares the upside of any success.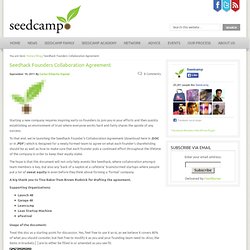 To that end, we're launching the Seedhack Founder's Collaboration Agreement (download here in .DOC or in .PDF ) which is designed for a newly formed team to agree on what each founder's shareholding should be as well as how to make sure that each founder puts a continued effort throughout the lifetime of the company in order to keep their equity stake. The hope is that this document will not only help events like Seedhack, where collaboration amongst team members is key, but also any 'back of a napkin at a cafeteria' brainstormed startups where people put a lot of sweat equity in even before they think about forming a 'formal' company. A big thank you to Tina Baker from Brown Rudnick for drafting the agreement. Business Model Generation - Canvas. Using the Business Model Generation Tools There have been some questions posted lately asking for guidance in using the tools associated with the Business Model Generation approach - the Business Model Canvas and the Value Proposition Canvas.
Though the Business Model Canvas was released under Creative Commons and the Value Proposition Canvas under copyright, the requirements for use of the two tools are really quite similar. Anyone may use the Business Model Canvas and the Value Proposition Canvas for their own work or to support others in understanding, analysing or changing their business models.
---