Business Planning
The original Airbnb Pitch Deck Honored... | @tiffanyk
Eroundtable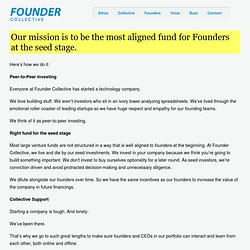 As venture capital funds get increasingly large, we have created a small fund ($50M) that is dedicated to investing in seed stage deals. Unlike big venture capital firms, we expect to generate returns almost exclusively from seed stage investments. Hence, we have the same incentives as founders to increase the value of the company in future financings. We are also comfortable with smaller exits if that's what the founders want. A significant portion of our fund comes from active entrepreneurs, many of whom have made Founder Collective their sole entity for private company investing.
Strategy - Founder Collective
Executive Summary - Artist and Art Materials USA 2009 (PDF file) - International Art Materials Association
NOTES: (1) Internet Usage and World Population Statistics are for June 30, 2012. (2) CLICK on each world region name for detailed regional usage information. (3) Demographic (Population) numbers are based on data from the US Census Bureau and local census agencies. (4) Internet usage information comes from data published by Nielsen Online , by the International Telecommunications Union , by GfK , local ICT Regulators and other reliable sources. (5) For definitions, disclaimers, navigation help and methodology, please refer to the Site Surfing Guide . (6) Information in this site may be cited, giving the due credit to www.internetworldstats.com . Copyright © 2001 - 2013, Miniwatts Marketing Group. All rights reserved worldwide.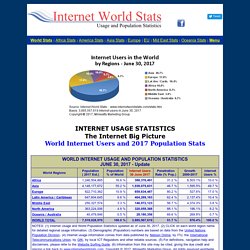 If I Launched a Startup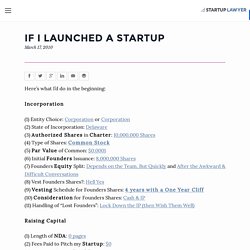 Here's what I'd do in the beginning: Incorporation (1) Entity Choice: Corporation or Corporation (2) State of Incorporation: Delaware (3) Authorized Shares in Charter: 10,000,000 Shares (4) Type of Shares: Common Stock (5) Par Value of Common: $0.0001 (6) Initial Founders Issuance: 8,000,000 Shares (7) Founders Equity Split: Depends on the Team, But Quickly and After the Awkward & Difficult Conversations (8) Vest Founders Shares?
DressRush Pitch Deck
Build Complete Financial Statements for Your Startup
Download now » $79 The Complete Model is a fully-functioning financial model that is intended to help entrepreneurs: Create detailed marketing plans and estimate viral user acquisition loops Estimate pricing plans, price points and estimate revenues Understand the key components of cost of goods sold (COGS) and selling, general and administrative (SG&A) costs behind the business Create the full financial statements needed for investors (income statement, balance sheet, statement of cash flows) Create funding estimates and outline a complete capitalization table to estimate ownership structure The Complete Model uses a mix of assumptions to estimate all revenue and cost line-items monthly over a flexible four year period, and then sums the monthly results into years for an easy view into the various time periods. You can easily set the start date and year for key decisions, and the model adjusts automatically.
http://sprouter.com/how-it-works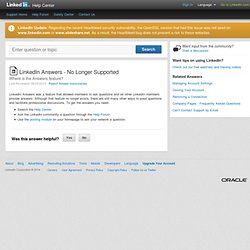 loading the help center... <div class="noscript center"> Sorry, Javascript is required for the help center.<br /><meta http-equiv="refresh" content="5; url=/app/utils/log_error/et/0/ec/6/callback/http%3A%2F%2Fhelp.linkedin.com%2Fapp%2Fanswers%2Fdetail%2Fa_id%2F35227%2Ffrom_auth%2Ftrue">You will automatically be forwarded to your destination in 5 seconds, or click <a href="/app/utils/log_error/et/0/ec/5/callback/http%3A%2F%2Fhelp.linkedin.com%2Fapp%2Fanswers%2Fdetail%2Fa_id%2F35227%2Ffrom_auth%2Ftrue">here</a> to continue. </div> Powered By Oracle
As a consultant to tech startups, I've seen entrepreneurs planning online ventures confused when it comes to projecting advertising revenue. Having done ad projections with the benefit of live models from which to extract real data, I offer the following guidelines on how you can calculate revenue projections for your business plan. Baseline Criteria: Let's assume that for Year One you will only use third-party ad-serving networks, instead of direct selling. This is as simple as adding their code snippets to your pages, to automatically feed their ads to your site.
Projecting Online Advertising for Business Plans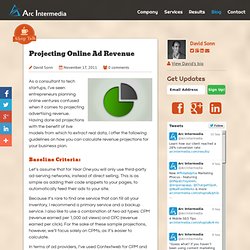 How To Calculate Lifetime Value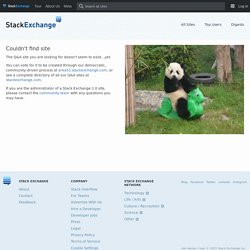 The correlation between website traffic and revenues is variable, mainly on what type of people are going to your site and what kind of business are you talking to. For example, I used to work for Jewelry Television, and I noticed that they are advertising on more progressive blogs, which will tend to attract a certain type of audience. Then, what type of traffic do you get, do you have pages where people will be there for a while, perhaps solving a puzzle, or carefully reading something, or is it just to click-thru. On click-thru sites the ad rate will be lower as there is less chance people will click on ads.
How to estimate revenues/valuation of an advertising-supported internet website? - OnStartups Beta - Stack Exchange
The most common comment in this long and complicated MBA Mondays series on Employee Equity is the question of how much equity should you grant when you make a hire. I am going to try to address that question in this post. First, a caveat.
Employee Equity: How Much?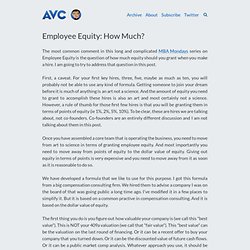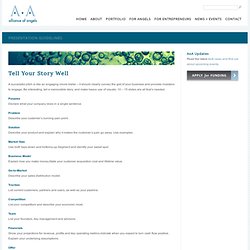 Alliance of Angels - Presentation Guidelines
A successful pitch is like an engaging movie trailer – it should clearly convey the gist of your business and provoke investors to engage. Be interesting, tell a memorable story, and make heavy use of visuals. 10 – 15 slides are all that's needed. Purpose Declare what your company does in a single sentence.
How I Raised $350k as a Solo Founder using these 4 Email Templates
UpStart Bootcamp : Online Course
Creating an Early-Stage Pitch Deck - Dogpatch Labs
The server encountered an internal error or misconfiguration and was unable to complete your request. Please contact the server administrator, webmaster@dogpatchlabs.matthewruddy.com and inform them of the time the error occurred, and anything you might have done that may have caused the error. More information about this error may be available in the server error log. Additionally, a 500 Internal Server Error error was encountered while trying to use an ErrorDocument to handle the request.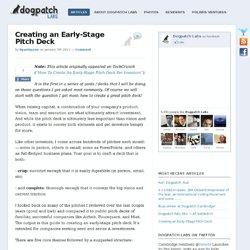 Angel Investors and Startup Funding
The Founders' Pie Calculator By Frank Demmler Several weeks ago, we took a look at the founders' pie.
Cutting Up the Founder's Pie
How to Divide Equity to Startup Founders, Advisors, and Employees
377 Flares Twitter 108 Facebook 44 LinkedIn 42 in Share 42 Google+ 18 Pin It Share 4 4 Reddit 1 StumbleUpon 156 377 Flares × Since returning from MIT back in June I've been focusing on the growth of the company. It has been pretty much on mind non-stop for months now.
Seedhack Founders Collaboration Agreement