Wordpress Theming
WP Novavideo - Premium Wordpress Responsive Video Tube Theme. How To Add Icons To Your WordPress Menu. The "not-so-new-anymore" WordPress 3.0+ custom menu feature is not only extremely useful but is also very powerful.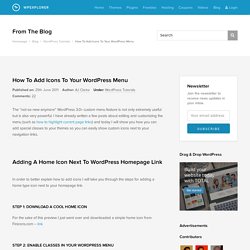 I have already written a few posts about editing and customizing the menu (such as how to highlight current page links) and today I will show you how you can add special classes to your themes so you can easily show custom icons next to your navigation links. In order to better explain how to add icons I will take you through the steps for adding a home type icon next to your homepage link. Step 1: Download a cool home icon For the sake of this preview I just went over and downloaded a simple home icon from Finicons.com – link. How To Create A Child Theme, And Why You Should Be Using One. According to our recent WordPress Themes Survey, 85% of our customers customize their themes, and only 35% use a child theme when doing so.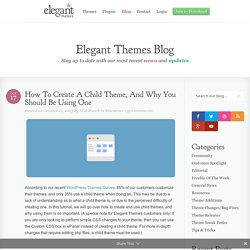 This may be due to a lack of understanding as to what a child theme is, or due to the perceived difficulty of creating one. In this tutorial, we will go over how to create and use child themes, and why using them is so important. (A special note for Elegant Themes customers only: If you are only looking to perform simple CSS changes to your theme, then you can use the Custom CSS box in ePanel instead of creating a child theme. For more in-depth changes that require editing php files, a child theme must be used.) What You Can Expect From Future Versions Of WordPress. Starting with version 3.7, WordPress began a new distributed development process that promises a faster and more nimble release schedule.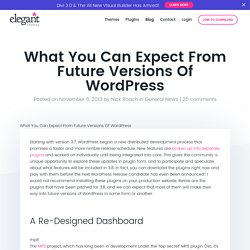 New features are broken up into separate plugins and worked on individually until being integrated into core. This gives the community a unique opportunity to explore these updates in plugin form, and to participate and speculate about what features will be included in 3.8. In fact, you can download the plugins right now and play with them before the next WordPress release candidate has even been announced! I would not recommend installing these plugins on your production website. Extend WordPress With Custom Fields.
Advertisement WordPress' popularity has grown exponentially as of late.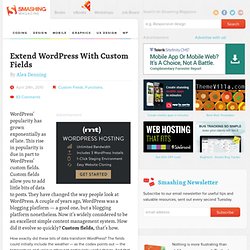 This rise in popularity is due in part to WordPress' custom fields. Custom fields allow you to add little bits of data to posts. They have changed the way people look at WordPress. Getting Started with WordPress Post Formats. Since WP 3.1, we've had post formats.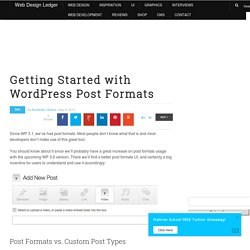 Most people don't know what that is and most developers don't make use of this great tool. You should know about it since we'll probably have a great increase on post formats usage with the upcoming WP 3.6 version. There we'll find a better post formats UI, and certainly a big incentive for users to understand and use it accordingly. Post Formats vs. Custom Post Types. Sidebars in WordPress.
Over the past few months, I've seen the code for hundreds of WordPress themes.
I've seen some beautiful code and some downright nasty code. One thing that I've seen more often than not is the same few lines for handling sidebars. This is code from 2007 and most likely copy-pasted from older WordPress themes. I just wanted to clue an extremely large portion of the theme development community in on a little secret: sidebars have been a part of WordPress core and have seen some updates over the last three years.
With that in mind, I'm going to walk you through the steps of creating and using sidebars for WordPress themes. WordPress theme - The Anatomy, an Infographic.
---