Musica
Edvard Grieg - Peer Gynt [complete recording] Zaz: una flor del asfalto | Acordes y desacordes. Por Sergio Monsalvo C.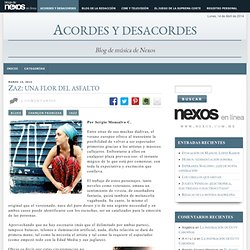 Entre otras de sus muchas dádivas, el verano europeo ofrece al transeúnte la posibilidad de volver a ser espectador primerizo gracias a los artistas y músicos callejeros. Enfrentarse a ellos en cualquier plaza provoca eso: el instante mágico de lo que está por comenzar, con toda la expectativa y excitación que conlleva.
El trabajo de estos personajes, tanto noveles como veteranos, emana un sentimiento de viveza, de ensoñadora fantasía, quizá también de melancolía vagabunda. Leonard Cohen, le plus grand parolier du monde. Leonard Cohen a sorti fin janvier un nouvel album, Old Ideas, au bout de sept ans d'absence.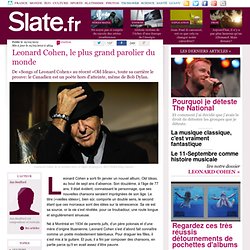 Son douzième, à l'âge de 77 ans. Il était évident, connaissant le personnage, que ses nouvelles chansons seraient imprégnées de son âge. ► Remember Me As a Time of Day by Explosions In The Sky | music to write essays to | fiveless | 8tracks. Edith Piaf - La vie en rose - Paroles ( lyrics ) I Will Follow You into the Dark (video) album version audio. First Day Of My Life Chords by Bright Eyes. Bright Eyes "First Day Of My Life". Zaz - Je veux (Spanish subtitles) Bomba Estereo - Sintiendo.
---