Music Discovery
New Releases. Listen to a Wall of blues Music. Musicovery. Songza - Listen to Music Curated by Music Experts. Ronald Jenkees. Everyone's Mixtape. Indie Shuffle :: Indie music & free music discovery. Shuffle.
Stereomood – emotional internet radio - music for my mood and activities. Gnoosic - Discover new Music. Dubstep. Alternative sites. Music-Map - The tourist map of music. uWall.tv | Listen to a Wall of Music. The Music Maze. The Beatles Player - StumbleUpon. The Labyrinth of Genre. 20 fantastic ways to find new music that you like (no Last.fm & Pandora inside)
OK, everybody knows that Last.fm & Pandora are great services, but there are a lot of other tools that can help us to find new cool music.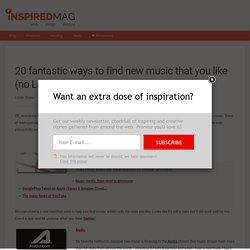 Some of them just expose daily musical goodies, others make recommendations based on your very own preferences, and others take the web interactivity ever further. Explore the best 20 ways to discover new music in a web 2.0 world. Live music discovery Awdio My favorite method to discover new music is listening to the Awdio stream (live music stream from more than 60 clubs from all over the world – including DJ sets & parties) and when I hear a nice track, I tag it with Shazam (explained below) to find out what tune is it. Rocklist.net...Steve Parker...1001 Albums.. - StumbleUpon.
1001 Albums You Must Hear Before You Die Published in 2005 by Cassell Illustrated.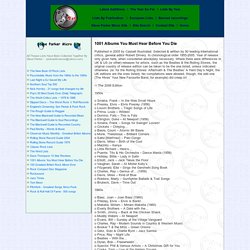 Selected & written by 90 leading international critics, general editor Robert Dimery. In chronological order 1955-2005. Moof - Social Music Reinvented. Songr - Finding Music You Like. Music Video Awesomeness. Tubalr - Watch your favorite band or artist top YouTube videos or find... - StumbleUpon.
---