Art / Photography / Graphics
Strobe Illusion - Stare into the Strobe and begin to hallucinate! Super Sprayer. 20 Most Hilarious YouTube Videos Under 20 Seconds Long. We declare the world as our canvas106 of the most beloved Street Art Photos - Year 2010. More info.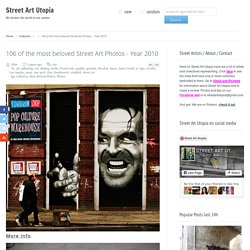 More info. More Banksy on streetartutopia.com. More info. More 3D on streetartutopia.com. Amazing 3D Drawings. Paint_war_berlin.jpeg (1600×1066) Still Life Still Alive | Home » Inspiring Artists, Inspiring Projects 1 November 201060 Comments Alexa Meade is a 23 year old D.C. based artist who is developing an aesthetic that is playfully and skillfully combing paint, portraiture, photography and performance.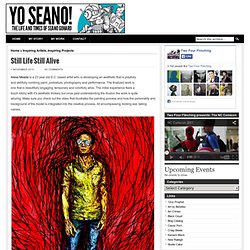 The finalized work is one that is beautifully engaging, temporary and colorfully alive. Adding Color To The Most Iconic Photos In History. Simon Tong Photography. The Most Epic Painting Time Lapse in History [AWESOME VIDEO] Multicolr Search Lab - Id&e Inc. - StumbleUpon. One man, 100,000 toothpicks, and 35 years: An incredible kinetic sculpture of San Francisco. Thirty five years ago I had yet to be born, but artist Scott Weaver had already begun work on this insanely complex kinetic sculpture, Rolling through the Bay, that he continues to modify and expand even today.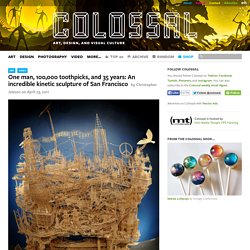 The elaborate sculpture is comprised of multiple "tours" that move pingpong balls through neighborhoods, historical locations, and iconic symbols of San Francisco, all recreated with a little glue, some toothpicks, and an incredible amount of ingenuity. He admits in the video that there are several toothpick sculptures even larger than his, but none has the unique kinetic components he's constructed. Via his website Weaver estimates he's spent over 3,000 hours on the project, and the toothpicks have been sourced from around the world: I have used different brands of toothpicks depending on what I am building. I also have many friends and family members that collect toothpicks in their travels for me. Hyper-real pencil drawings look just like photos. Paul Cadden's painstaking portraits look like they were taken by a camera They say the camera never lies - but these images prove you can't believe everything you see as they are not photos at all.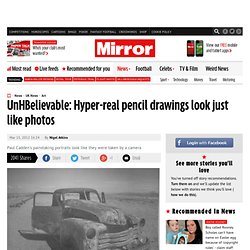 Instead they are amazingly highly detailed pencil drawings, the work of Scottish artist Paul Cadden. Every hair, wrinkle and bead of water in these images has been drawn by hand, mainly with a pencil, in a pain-staking process which takes up to six weeks to produce a single picture. The poster size pieces on A1 (80cm x 60cm) or A0 (1.2m x 80cm) paper sell for up to £5,000 each. Hyper-Realistic Rubber: Tire Sculpture by Yong Ho Ji. Whenever I take road trips, I often notice the hulking shreds of stripped semi tires laying around, and I've always thought two things: one, they look almost organic- like they're actually the carcasses of some prehistoric animal that blundered its way onto the highway, and two- that that animal must have been damn ugly.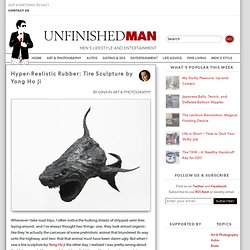 But when I saw a tire sculpture by Yong Ho Ji the other day, I realized I was pretty wrong about the hideous part. He reassembles strips of old tires with resins and screws into gorgeous creatures with predatory stances and sinuous movement. The 33 Most Beautiful Abandoned Places In The World. Many people doesn't know, and didn't even heard about these famous abandoned places.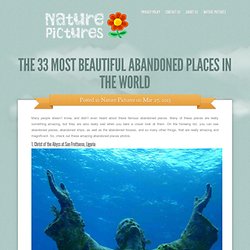 Many of these places are really something amazing, but they are also really sad when you take a closer look at them. On the folowing list, you can see abandoned planes, abandoned ships, as well as the abandoned houses, and so many other things, that are really amazing and magnificent. So, check out these amazing abandoned places photos. 1. The 40 Most Spectacular and Mindblowing Photos of Nature. A lifetime is not enough to see what nature has to offer and all its beauties, along with its weirdness at times.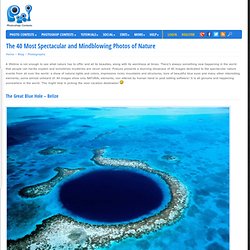 There's always something new happening in the world that people can hardly explain and sometimes mysteries are never solved. Pxleyes presents a stunning showcase of 40 images dedicated to the spectacular nature events from all over the world: a show of natural lights and colors, impressive rocky mountains and structures, tons of beautiful blue eyes and many other interesting elements, some almost unheard of. All images show only NATURAL elements, non altered by human hand or post editing software! It is all genuine and happening somewhere in the world. This might help in picking the next vacation destination. National Geographic's Photography Contest 2010. A supercell thunderstorm rolls across the Montana prairie at sunset.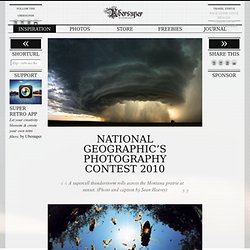 (Photo and caption by Sean Heavey) Salvation. Appreciate life to save the world. Plitvice Paradise : Plitvicka Jezera, Croatia. These 50 Photos Will Blow you Away - StumbleUpon. Great news today: we will start a series of showcases that are meant to make the jaws drop!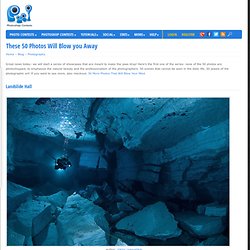 Here's the first one of the series: none of the 50 photos are photoshopped, to emphasize the natural beauty and the professionalism of the photographers. 50 scenes that cannot be seen in the daily life, 50 jewels of the photographic art! If you want to see more, also checkout: 50 More Photos That Will Blow Your Mind Landslide Hall Clouds on Fire. The 45 Most Powerful Images Of 2011. Most popular photography on StumbleUpon! Before I Die. What is important to you 2011 After Candy Chang lost someone she loved, she went through a long period of grief and depression.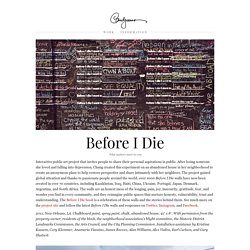 With time she felt gratitude for the time they had together and eventually she found clarity in her life by contemplating death so much. Greg Rutter's Definitive List of The 99 Things You Should Have Already Experienced On The Internet Unless You're a Loser or Old or Something. The Art of Negative Space. on the Behance Network. The drawings of Leonardo da Vinci.
Solitude - 2010/2011 - A work in progress on the Behance Network. Amazing Scanning Electron Microscope Photos. Amazing Scanning Electron Microscope Photos All these pictures are from the book 'Microcosmos,' created by Brandon Brill from London. This book includes many scanning electron microscope (SEM) images of insects, humanbody parts and household items. These are the most amazing images of what is too small tosee with the naked eye. 2-2-11 An ant, Formica fusca, holding a microchip. Julian Beever's pavement drawings. [Homepage] [Wall murals] [Fine Art paintings] [E-mail] J ulian Beever has made pavement drawings for over twenty years. He has worked all over the world. T o buy a book on the pavement art of Julian Beever (Publishers website) : (Please note that the book is not sold personally by Julian Beever so any enquiries, transaction or follow-up should not be addressed to him but to the publishers.)
---