Month of Free Online Books - 2009, January
Database Systems. C / C++ / C# Perl. Revision Control / SCM. Commercially Available. Software Theory / CompSci. Unix.
Larry Lessig & Co. Classics. Python. How not to sell a novel. It's a well-known cliche that every writer has half a novel sitting in a desk drawer, waiting to be published.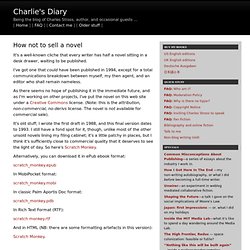 I've got one that could have been published in 1994, except for a total communications breakdown between myself, my then agent, and an editor who shall remain nameless. As there seems no hope of publishing it in the immediate future, and as I'm working on other projects, I've put the novel on this web site under a Creative Commons license. (Note: this is the attribution, non-commercial, no-derivs license.
His Girl Friday.
---
joedavis Jun 21 2011

nice collection, thanks for sharing!

tml Jun 21 2011

This is a list of links from a project I did on my blog in 2009 where I listed at least two freely available online books every day for the entire month of January.
---