C / C++ / C#
Bruce Eckel's MindView, Inc. ::: Exceptional Learning Experiences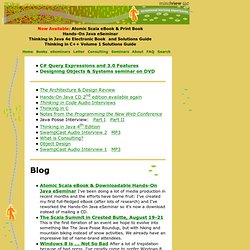 Atomic Scala eBook & Downloadable Hands-On Java eSeminar I've been doing a lot of media production in recent months and the efforts have borne fruit: I've created my first full-fledged eBook (after lots of research) and I've reworked the Hands-On Java eSeminar so it's now a download instead of mailing a CD.The Scala Summit in Crested Butte, August 19-21 This is the first iteration of an event we hope to evolve into something like The Java Posse Roundup, but with hiking and mountain biking instead of snow activities. We already have an impressive list of name-brand attendees.Windows 8 is ... Not So Bad After a lot of trepidation because of bad press, I've rapidly come to prefer Windows 8 over Windows 7.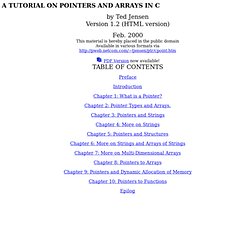 by Ted Jensen Version 1.2 (HTML version) Feb. 2000 This material is hereby placed in the public domain Available in various formats viahttp://pweb.netcom.com/~tjensen/ptr/cpoint.htm PDF Version now available! Preface
A Tutorial on Pointers and Arrays in C
OpenGL Programming Guide or 'The Red Book' About This Guide Chapter 1: Introduction to OpenGL Chapter 2: Drawing Geometric Objects Chapter 3: Viewing Chapter 4: Display Lists Chapter 5: Color Chapter 6: Lighting Chapter 7: Blending, Antialiasing, and Fog Chapter 8: Drawing Pixels, Bitmaps, Fonts, and Images Chapter 9: Texture Mapping Chapter 10: The Framebuffer Chapter 11: Evaluators and NURBS Chapter 12: Selection and Feedback Chapter 13: Now That You Know Appendix A: Order of Operations Appendix B: OpenGL State Variables Appendix C: The OpenGL Utility Library Appendix D: The OpenGL Extension to the X Window System Appendix E: The OpenGL Programming Guide Auxiliary Library Appendix F: Calculating Normal Vectors Appendix G: Homogeneous Coordinates and Transformation Matrices Appendix H: Programming Tips Appendix I: OpenGL Invariance Appendix J: Color Plates Glossary (not included in this version) This easily downloadable version was compiled by UnreaL with help by AsKewl.
How To Think Like A Computer Scientist Learning with C++ by Allen B. Downey