Books
Tools - Ebook Management and Creation Tools. Team Monthly Picks.
Free - List of freely available programming books. Free ebooks. The 80 Greatest Science Fiction Books for Kids. Science-fiction is an ideal genre for kids of all ages — not the sole domain of ponderous, provocative philosophical tomes using space as a metaphor for the human condition and psyche.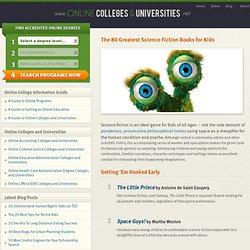 Although rooted in astronomy, robots and other scientific truths, the accompanying sense of wonder and speculation makes the genre (and its myriad sub-genres) so enduring. Introducing children and young adults to the comfortable, familiar narratives, character archetypes and settings makes an excellent conduit for stimulating their burgeoning imaginations. Getting 'Em Hooked Early The Little Prince by Antoine de Saint-Exupery Part science-fiction, part fantasy, The Little Prince is required shared reading for all parents and children, regardless of their genre preferences. Space Guys! Free Classic AudioBooks. Digital narration for the 21st Century. Free Ebooks. Books. Books/Literature/Web Reading. eBooks.
---