Climate/energy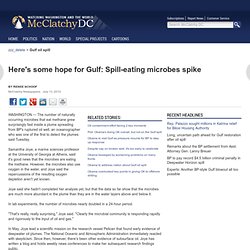 WASHINGTON — The number of naturally occurring microbes that eat methane grew surprisingly fast inside a plume spreading from BP's ruptured oil well, an oceanographer who was one of the first to detect the plumes said Tuesday. Samantha Joye, a marine sciences professor at the University of Georgia at Athens, said it's good news that the microbes are eating the methane. However, the microbes also use oxygen in the water, and Joye said the repercussions of the resulting oxygen depletion aren't yet known. Joye said she hadn't completed her analysis yet, but that the data so far show that the microbes are much more abundant in the plume than they are in the water layers above and below it. In lab experiments, the number of microbes nearly doubled in a 24-hour period. "That's really, really surprising," Joye said.
Here's some hope for Gulf: Spill-eating microbes spike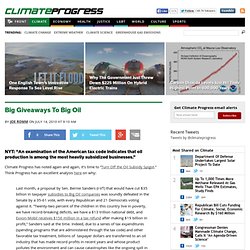 Big Giveaways To Big Oil « Climate Progress
Climate Progress has noted again and again, it's time to "Turn Off the Oil Subsidy Spigot." Think Progress has an excellent analysis here on why: Last month, a proposal by Sen. Bernie Sanders (I-VT) that would have cut $35 billion in taxpayer subsidies to Big Oil companies was soundly defeated in the Senate by a 35-61 vote, with every Republican and 21 Democrats voting against it. "Twenty-two percent of the children in this country live in poverty, we have record-breaking deficits, we have a $13 trillion national debt, and Exxon-Mobil receives $156 million in a tax refund after making $19 billion in profit," Sanders said at the time.
Stop Big Oil Bailouts
When a corporation such as BP experiences the humiliation of wearing the "responsible" cloud over their heads, what does it teach them? To ask this question is to ask the same question with regard to children and wrong deeds, to husbands and wives who are unfaithful in their marriages, to the recently unemployed who had good jobs and threw them away, and so on. It is always a positive benefit of tragedy that individuals learn from their mistakes and make better choices in the future. What about British Petroleum, however? Just two years after the oil spill, the oil giant looks to rebound in the stock market with more money to please its investors, as well as additional drilling opportunities.
Tired of Complaining? Do Something! | Mark Fiore's Animated Cartoon Site
Little Green Videos | Mark Fiore's Animated Cartoon Site
Do Your Part Signup Right Now!
Support Unemployment Benefits On New Year's Day, unemployment benefits expired and over one million Americans lost their lifelines. President Obama and Senate Democrats have a plan to extend these crucial benefits. But John Boehner and the Tea Party Republicans are already threatening to block the bill.
Tell David Vitter It's Time To Fess Up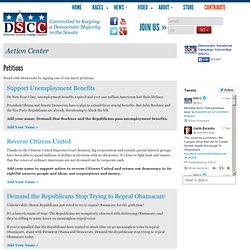 How to Clean Up an Oil Spill - Scamwow!
How to Clean Up an Oil Spill - Scamwow!
Welcome to YouTube! The location filter shows you popular videos from the selected country or region on lists like Most Viewed and in search results.To change your location filter, please use the links in the footer at the bottom of the page. Click "OK" to accept this setting, or click "Cancel" to set your location filter to "Worldwide". The location filter shows you popular videos from the selected country or region on lists like Most Viewed and in search results.
Chaîne de greenpeaceusa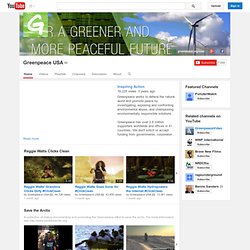 Starting later this summer, the UK will achieve a first in biowaste energy: a new plant using brewery waste and local food waste is set to being producing renewable gas that will be fed back into the country's national gas grid. The £2.75-million plant will also generate gas that can be used as a liquid fuel. Construction of the Adnams Bio Energy anaerobic digestion plant was announced today.
Coming soon to UK: Heating gas from brewery waste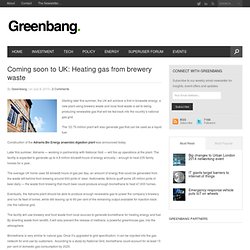 Video 2: Climate Change and National Security « Climate Progress
Cause on the Rocks Join Causecast, VeeV, and Global Green USA on Tuesday, July 13 from 7-10p.m. at the Viceroy Santa Monica. Help us raise money for all the communities directly affected by the Gulf oil spill disaster just by ordering a drink. CAUSE ON THE ROCKS will kick off a month of giving. When you order an Acai VeeV Lemonade cocktail (a concoction of acai spirit, lemonade, and cranberry juice) during the month of July, 100% of the proceeds will be donated directly to Global Green USA.
Global Green USA
2004 Section 303(d) List Fact Sheet for PENNSYLVANIA | WATERS |