Media Law Final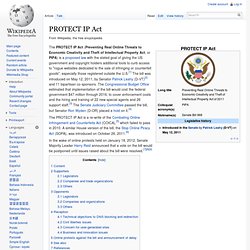 The PROTECT IP Act (Preventing Real Online Threats to Economic Creativity and Theft of Intellectual Property Act, or PIPA) is a proposed law with the stated goal of giving the US government and copyright holders additional tools to curb access to "rogue websites dedicated to the sale of infringing or counterfeit goods", especially those registered outside the U.S.[1] The bill was introduced on May 12, 2011, by Senator Patrick Leahy (D-VT)[2] and 11 bipartisan co-sponsors. The Congressional Budget Office estimated that implementation of the bill would cost the federal government $47 million through 2016, to cover enforcement costs and the hiring and training of 22 new special agents and 26 support staff.[3] The Senate Judiciary Committee passed the bill, but Senator Ron Wyden (D-OR) placed a hold on it.[4] The PROTECT IP Act is a re-write of the Combating Online Infringement and Counterfeits Act (COICA),[5] which failed to pass in 2010.
The Digital Millennium Copyright Act (DMCA) is a United States copyright law that implements two 1996 treaties of the World Intellectual Property Organization (WIPO).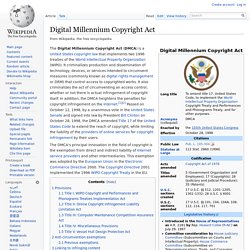 Proponents of the legislation state it will protect the intellectual-property market and corresponding industry, jobs and revenue, and is necessary to bolster enforcement of copyright laws, especially against foreign-owned and operated websites.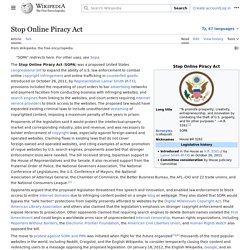 Federal Election Commission v. Wisconsin Right to Life, Inc.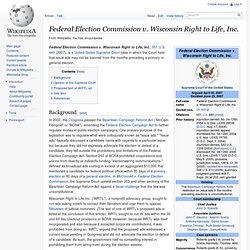 Federal Election Commission v.
McConnell v. Federal Election Commission, 540 U.S. 93 (2003),[1] is a case in which the United States Supreme Court upheld the constitutionality of most of the Bipartisan Campaign Reform Act of 2002 (BCRA), often referred to as the McCain–Feingold Act. The case takes its name from Senator Mitch McConnell, Republican of Kentucky, and the Federal Election Commission, the federal agency that oversees U.S. campaign finance laws.
McConnell v. Federal Election Commission
Austin v.
Austin v. Michigan Chamber of Commerce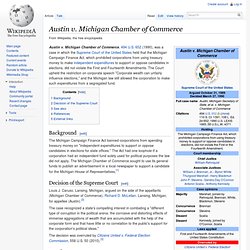 Corporate personhood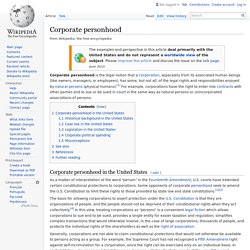 Corporate personhood is the legal concept that a corporation may be recognized as an individual in the eyes of the law.
The decision overruled Austin v.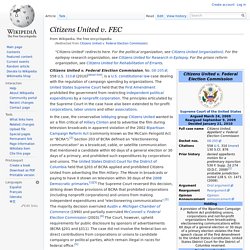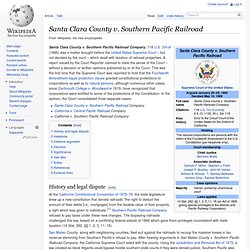 Santa Clara County v. Southern Pacific Railroad
Santa Clara County v.