Game Studies
TED: Ideas worth spreading. Twenty One Day Habit. We are creatures of habit.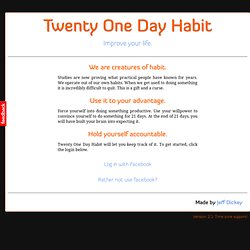 Studies are now proving what practical people have known for years. We operate out of our own habits. When we get used to doing something it is incredibly difficult to quit. This is a gift and a curse. Use it to your advantage. UpRace. Let's Get Ready | Main / Home Page. Let's Get Ready Offers Help for College Admissions. Since second grade, she has taken advantage of a voluntary integration program here, leaving her home in one of the city's poorer sections before 6:30 a.m. and riding a bus over an hour to Newton, a well-to-do suburb with top-quality schools.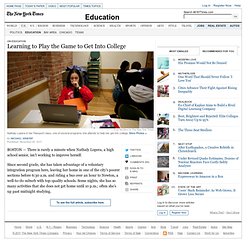 Some nights, she has so many activities that she does not get home until 10 p.m.; often she's up past midnight studying. "Nathaly gets so mad if she doesn't make the honor roll," says Stephanie Serrata, a classmate. Stop Procrastinating...Now - Amy Gallo - Best Practices. By Amy Gallo | 9:25 AM October 11, 2011 It seems that no one is immune to the tendency to procrastinate.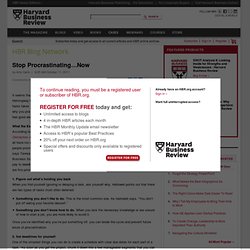 When someone asked Ernest Hemingway how to write a novel, his response was "First you defrost the refrigerator." But putting off tasks takes a big hit on our productivity, and psyche. Procrastination is not inevitable. Figuring out why you postpone work and then taking concrete steps to prevent it will help you get more done and feel good about yourself. What if the Secret to Success Is Failure? Recommendations | Book Review Sites, Book Lists, Best Sellers, What To Read Next. Free Personal Finance Software, Budget Software, Online Money Management and Budget Planner. Join the Fitocracy. Fitocracy Brings Games And Social To Your Workouts (Invites Within) You may not have heard of them quite yet, but a startup called Fitocracy is pretty hot right now.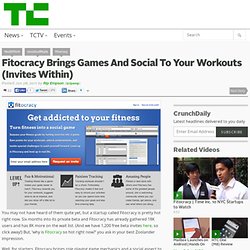 Six months into its private beta and Fitocracy has already gathered 18K users and has 8K more on the wait list. (And we have 1,200 free beta invites here, so click away!) But, 'why is Fitocracy so hot right now?' You ask in your best Zoolander impression. Well, for starters, Fitocracy brings role playing game mechanics and a social aspect to online fitness — and it's got a great name. Challenges. Exposure to letters A or F can affect test performance. Seeing the letter A before an exam can improve a student's exam result while exposure to the letter F may make a student more likely to fail.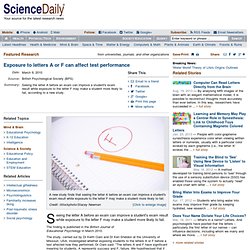 The finding is published in the British Journal of Educational Psychology in March 2010. The study, carried out by Dr Keith Ciani and Dr Ken Sheldon at the University of Missouri, USA, investigated whether exposing students to the letters A or F before a test affected how they performed. Saturday Morning Breakfast Cereal. The Republic of Yosuda. Fun Fun Fun. I've been known to criticize nostalgic gamers who believe retro titles were superior to modern offerings, despite most old games being rubbish, but I almost can't fault them for it.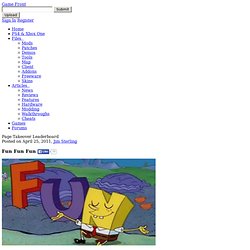 I look at the gamers of today and I often wonder if we've forgotten how to have fun, and whether retro gamers don their rose-tinted specs not because the games were better back then, but because they were better gamers back then. There's an air of dry misery that surrounds gamers these days, at least online, and it seems that when I converse with others of my ilk, the prime concerns get less about gaming, and more about the periphery garbage surrounding it — various publisher shenanigans, controversies concerning homosexuality as represented in the medium, whether or not we're driving the industry forward artistically.
Learning science through gaming. This month, thousands of middle-school students are going online to play an interactive video game.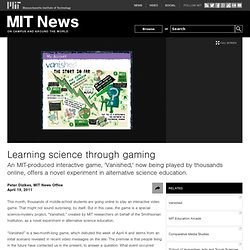 That might not sound surprising, by itself. But in this case, the game is a special science-mystery project, "Vanished," created by MIT researchers on behalf of the Smithsonian Institution, as a novel experiment in alternative science education. "Vanished" is a two-month-long game, which debuted the week of April 4 and stems from an initial scenario revealed in recent video messages on the site.
The premise is that people living in the future have contacted us in the present, to answer a question: What event occurred between our time and theirs that led to the loss of civilization's historical records? Humans not that much better than fellow primates at game theory. Game theory uses deceptively simple challenges to provide insights into human decision making and cooperation.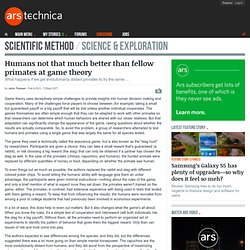 Many of the challenges force players to choose between (for example) taking a small but guaranteed payoff or a big payoff that will be lost unless another individual cooperates. The games themselves are often simple enough that they can be adapted to work with other primates so that researchers can determine which human behaviors are shared with our closer relatives. But that adaptation can significantly change the appearance of the game, raising questions about whether the results are actually comparable. Game studies. Game studies or gaming theory is an academic discipline that deals with the critical study of games.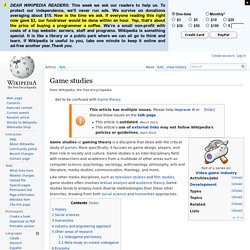 More specifically, it focuses on game design, players, and their role in society and culture. Game studies is an inter-disciplinary field with researchers and academics from a multitude of other areas such as computer science, psychology, sociology, anthropology, philosophy, arts and literature, media studies, communication, theology, and more.
Tom Chatfield | Website of the author and commentator.
---