Education
Cultivating Genius in the 21st Century | Wired Magazine. Illustration: Bartholomew Cooke Most economic growth has a very simple source: new ideas.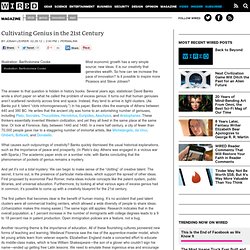 It is our creativity that generates wealth. So how can we increase the pace of innovation? Is it possible to inspire more Picassos and Steve Jobses? Wendy Kopp: The Trouble With Humiliating Teachers. Survey: Teacher Job Satisfaction Hits a Low Point. Does Preschool Matter? | Wired Science. For many kids, the most important years of schooling come before they can even read.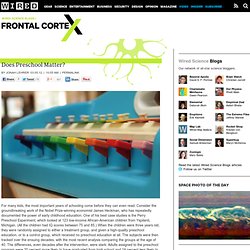 Consider the groundbreaking work of the Nobel Prize-winning economist James Heckman, who has repeatedly documented the power of early childhood education. One of his best case studies is the Perry Preschool Experiment, which looked at 123 low-income African-American children from Yspilanti, Michigan. (All the children had IQ scores between 75 and 85.)
When the children were three years old, they were randomly assigned to either a treatment group, and given a high-quality preschool education, or to a control group, which received no preschool education at all. The subjects were then tracked over the ensuing decades, with the most recent analysis comparing the groups at the age of 40. Browse: Subject Area: Social Sciences. A satire on dissension and political intrigue within Andrew Jackson's administration, surrounding ...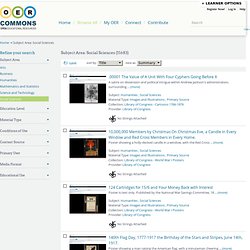 (more) A satire on dissension and political intrigue within Andrew Jackson's administration, surrounding the Spring 1831 resignations of several members of his Cabinet. In the center Jackson sits in a collapsing chair, labeled "The Hickory Chair is coming to pieces at last. " Seated on the arm of his chair is a rat with the head of Postmaster General William T. Barry. Www.doe.mass.edu/frameworks/hss/final.pdf. SnappSchool. A startup called SnappSchool is compiling a weekly rundown of the Kindergarten to 6th-grade math curriculum — for parents.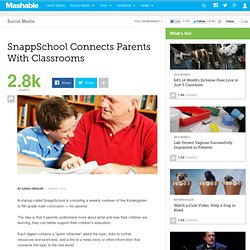 The idea is that if parents understand more about what and how their children are learning, they can better support their children's education. Each digest contains a "quick refresher" about the topic, links to further resources and exercises, and a link to a news story or other information that connects the topic to the real world. SnappSchool hires certified teachers to write the digests, and they're based on Common Core Standards that all but five states use. Because the emails are not coordinated by your children's specific teachers, however, they might be paced slightly ahead or behind their actual classroom lessons.
Susan Cain: The power of introverts. MindSnacks Turns Learning a Language Into a Game. The Spark of Genius Series highlights a unique feature of startups and is made possible by Microsoft BizSpark.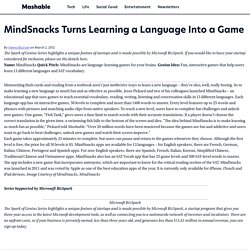 If you would like to have your startup considered for inclusion, please see the details here. Name: MindSnacks Quick Pitch: MindSnacks are language-learning games for your brains. Genius Idea: Fun, interactive games that help users learn 13 different languages and SAT vocabulary. Memorizing flash cards and reading from a textbook aren't just ineffective ways to learn a new language – they're also, well, really boring. Piggybackr. Teaching Channel: Videos, Lesson Plans and Other Resources for Teachers. Santorum flunks the history of home-schooling - Education. At the Republican debate Wednesday night, Rick Santorum repeated a claim he's been making, that the federal government, and the state governments, should "get out of the education business."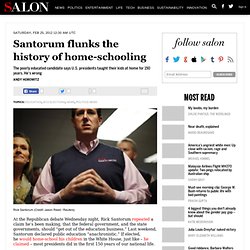 Last weekend, Santorum declared public education "anachronistic." If elected, he would home-school his children in the White House, just like – he claimed – most presidents did in the first 150 years of our national life. "Where did they come up that public education and bigger education bureaucracies was the rule in America?" He asked. "Parents educated their children, because it's their responsibility to educate their children." Resource Library - Gooru.
---