Translation
BRAZILIANS are extremely keen to know what the world thinks of them, and nearly every week what I write is translated into Portuguese, with the addition of the phrase "According to The Economist " at the beginning of each paragraph, and the whole thing remixed to put what the locals regard as the most salient points up front. I like to check these articles out, because I'm just as keen to know what they thought we got right or wrong, and what struck them as interesting or controversial. This week I wrote about the recent abrupt decision of José Serra—a former mayor and governor of São Paulo, and twice a failed presidential candidate—to stand for mayor of São Paulo later this year. I called him a "big beast"—a common expression in England, at least, for a political party's main players, and one without either particularly positive or negative connotations. My political analysis got translated, sure, but the main point of interest was this expression, "big beast".
Translation: Big... what?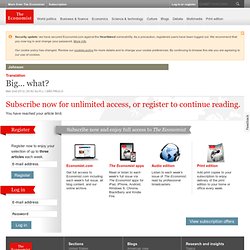 Written by: Rossen Stoitchkov, "St. Kliment Ohridski" University of Sofia Department of Language Teaching and International Students The paper sets out to explore the hidden potential of translation in teaching monolingual students. It attempts to show that translation in the language classroom can be used as a practical activity, which may indeed be rewarding for the teacher and stimulating for the students. Carefully designed translation activities involve learners in a metalinguistic task, which requires attention to the structural features of language thus having their awareness raised as to the specific way an idea (even the commonest one) is rendered in L1 and L2 (no distinction is made between foreign and second language). It is assumed that an ability (which is also a skill) to look at the stream of speech "with the mind's eye" is crucial to language learning and the paper explores the means for teaching and acquisition of such a skill through translation classroom activities.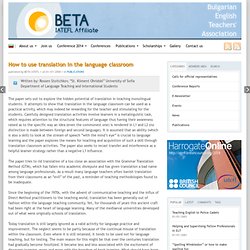 How to use translation in the language classroom | BETA
Translation activities in the language classroom Submitted by TE Editor on 25 March, 2009 - 12:38 This article looks at the role of translation as an activity for learners in the ELT classroom.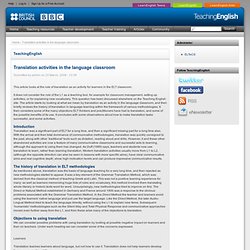 Translation activities in the language classroom
Guy Cook on Translation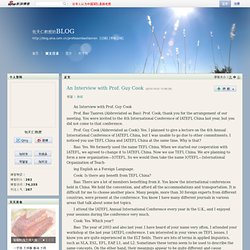 An Interview with Prof. Guy Cook_包天仁教授
An Interview with Prof. Guy Cook Prof.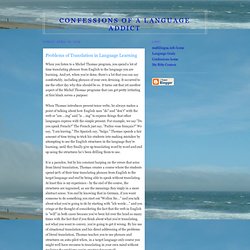 When you listen to a Michel Thomas program, you spend a lot of time translating phrases from English to the language you are learning. And yet, when you're done, there's a lot that you can say comfortably, including phrases of your own devising. It occurred to me the other day why this should be so. It turns out that yet another aspect of the Michel Thomas programs that can get pretty irritating at first blush serves a purpose:
Confessions of a Language Addict: Problems of Translation in Language Learning
home.pchome.com.tw/showbiz/posenliao/doc/EFL_Learners_Beliefs_about_and_Strategy_Use.pdf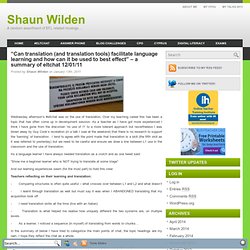 "Can translation (and translation tools) facilitate language learning and how can it be used to best effect" – a summary of eltchat 12/01/11 | Shaun Wilden
Wednesday afternoon's #eltchat was on the use of translation. Over my teaching career this has been a topic that has often come up in development session. As a teacher as I have got more experienced I think I have gone from the draconian 'no use of l1' to a more tolerant approach but nevertheless I was blown away by Guy Cook's revelation (in a talk I saw at the weekend) that there is no research to support the 'banning' of translation.