Apple market share
Apple grabs 17% of smartphone market in latest quarter. Even as overall sales for mobile phones remained flat for the third quarter, smartphone sales continue to show double digit growth—as they have ever since the market was redefined by Apple's iPhone.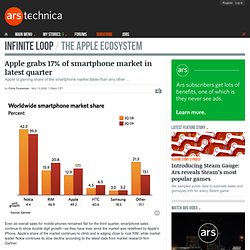 Apple's share of the market continues to climb and is edging close to rival RIM, while market leader Nokia continues its slow decline according to the latest data from market research firm Gartner. "Smartphones continued to represent the fastest-growing segment of the mobile-devices market and we remain confident about the potential for smartphones in the fourth quarter of 2009 and in 2010," said Gartner research director Carolina Milanesi in a statement.
Reports January 2010 U.S. Mobile Subscriber Market Share - comSc. March 10, 2010 comScore Reports January 2010 U.S.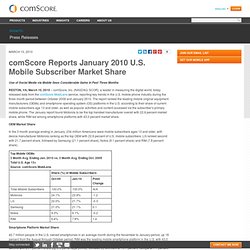 Mobile Subscriber Market Share Use of Social Media via Mobile Sees Considerable Gains in Past Three Months RESTON, VA, March 10, 2010 – comScore, Inc. Says Worldwide Smartphone Sales Grew 16 Per Cent in Second Quart. Egham, UK, September 8, 2008 View All Press Releases Japan Saw 24 Per Cent Decline While North America Remained Fastest-Growing Market Worldwide smartphone sales totalled 32.2 million units in the second quarter of 2008, a 15.7 per cent increase from the second quarter of 2007, according to Gartner, Inc.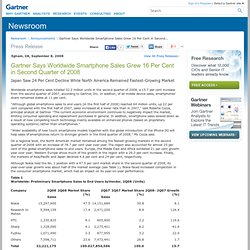 In addition, of all mobile device sales, smartphones' share remained stable at 11 per cent. Apple iPhone Market Share Slips In 4Q -- Apple -- InformationWee. Nokia edged up and Motorola gained on sales of its first devices on Google's Android platform.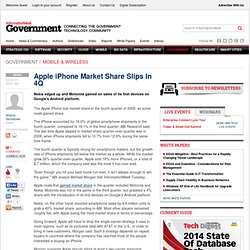 The Apple iPhone lost market share in the fourth quarter of 2009, as some rivals gained share. The iPhone accounted for 16.6% of global smartphone shipments in the fourth quarter, compared to 18.1% in the third quarter, ABI Research said. LexisNexis® Academic: Document. NetAdvantage. Global Smartphone Market Sizing. Smartphone Sales Up 24 Percent, iPhone's Share Nearly Doubled La. Last year, Apple's iPhone nearly doubled its worldwide market share of smartphone sales to 14.4 percent, up 6.2 points from the year before, according to the latest market share figures put out by Gartner.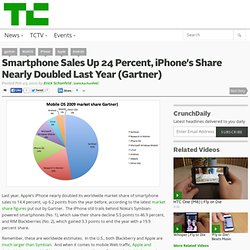 The iPhone still trails behind Nokia's Symbian-powered smartphones (No. 1), which saw their share decline 5.5 points to 46.9 percent, and RIM Blackberries (No. 2), which gained 3.3 points to end the year with a 19.9 percent share. Remember, these are worldwide estimates. In the U.S., both Blackberry and Apple are much larger than Symbian. And when it comes to mobile Web traffic, Apple and Android dominate with 81 percent share. Market Share. Every firm should be concerned about its share of the markets and market segments in which it competes.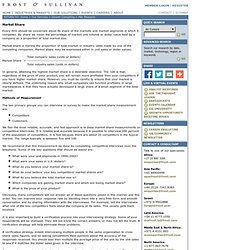 By share we mean the percentage of market unit volume or dollar value held by a company as a proportion of total market size. Market share is merely the proportion of total market or industry sales made by one of the competing companies. Market share may be expressed either in unit sales or dollar values: In general, attaining the highest market share is a desirable objective. The Truth About Apple's iPhone Market Share | Analysis | The Mac. There are many ways to compare the iPhone to the competition, and the choice may depend on what kind of story you want to tell.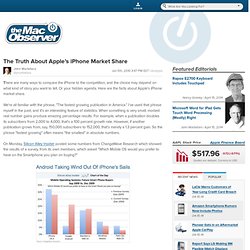 Or your hidden agenda. Here are the facts about Apple's iPhone market share. We're all familiar with the phrase, "The fastest growing publication in America. " I've used that phrase myself in the past, and it's an interesting feature of statistics. When something is very small, modest real number gains produce amazing percentage results.
The State of the Smartphone: iPhone is Way, Way Ahead. A new industry report from mobile analytics firm Flurry reveals some unique insights into the smartphone industry as of right now.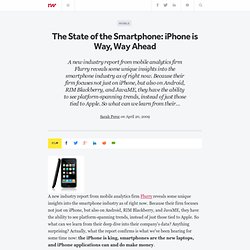 Because their firm focuses not just on iPhone, but also on Android, RIM Blackberry, and JavaME, they have the ability to see platform-spanning trends, instead of just those tied to Apple. So what can we learn from their deep dive into their company's data? Anything surprising? Apple doubles its iPhone market share | Apple.
If there was any doubt about the popularity of Apple's iPhone, a quick look at the latest market share figures from research firm Gartner should put them to rest.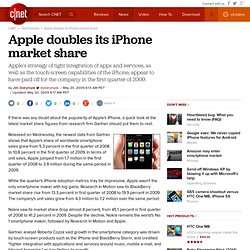 Released on Wednesday, the newest data from Gartner shows that Apple's share of worldwide smartphone sales grew from 5.3 percent in the first quarter of 2008 to 10.8 percent in the first quarter of 2009. In terms of unit sales, Apple jumped from 1.7 million in the first quarter of 2008 to 3.9 million during the same period in 2009. While the quarter's iPhone adoption metrics may be impressive, Apple wasn't the only smartphone maker with big gains. Research In Motion saw its BlackBerry market share rise from 13.3 percent in first quarter of 2008 to 19.9 percent in 2009. Analyst: End of iPhone Exclusivity Deals Could Double Sales for.
Add Morgan Stanley's Kathryn Huberty to the list of analysts calling for Apple to broaden the iPhone's distribution by ending carrier exclusivity deals.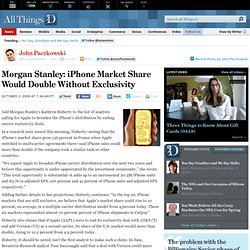 In a research note issued this morning, Huberty–noting that the iPhone's market share grew 136 percent in France when Apple switched to multicarrier agreements there–said iPhone sales could more than double if the company took a similar tack in other countries. "We expect Apple to broaden iPhone carrier distribution over the next two years and believe this opportunity is under-appreciated by the investment community," she wrote.
Citizen Economists » AT&T, The (Apple) Brand Destroyer. One of the most recognized, innovative and valuable brands in the world, Apple, is under assault. Apple has long been known for its fanatical followers, innovative solutions like a graphical user interface or the mouse and stylish products that meld hardware and software to create the best user experience possible. With several successful product launches, the new Snow Leopard operating system which quickly rose to #1 on Amazon being available for pre-order and iPhone sales being up 700% over last year which contributed $1.69B to revenue the company looks to be doing well fundamentally.
Many within the cult of Apple are developers who build applications for the iPhone with over 65,000 currently available in the App Store. EBSCOhost: Inside the iPhone Gray Market.
---