Tools
The Free Software Thread - WickedFire
Hello everyone. I know you can find these by looking around the forum, and there's a treasure trove thread, but nothing that was strictly Tools, and free ones at that. So, here's some of the best tools that affiliate marketing newbies should use, and they're at no cost.
Welcome to the ShareASale Performance Marketing Network A LEADING PROVIDER OF PERFORMANCE MARKETING SOLUTIONS FOR THE PAST 14 YEARS ShareASale has been in business for 14 years, exclusively as an Affiliate Marketing Network. Our technology receives accolades for speed, efficiency, and accuracy – and our reputation as a fair and honest business is well known within the industry. We encourage you to browse around our website and learn more, but if you have any questions, please don't hesitate to contact us!
ShareASale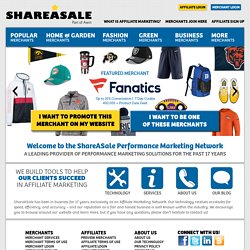 We're very excited to announce that all Conversant, Inc. companies – Commission Junction, Dotomi, Greystripe, Mediaplex, and ValueClick Media – are now united and operating as Conversant. As always, CJ is committed to providing the world's most effective affiliate solutions to our clients. While we're now a part of a much bigger industry powerhouse – with an updated look as CJ Affiliate by Conversant – the CJ you know and love is alive and well.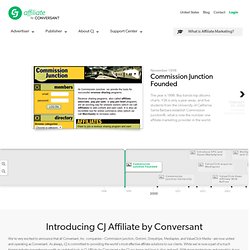 About Us | CJ US