Guides
SEO: The Free Beginner's Guide From SEOmoz. New to SEO?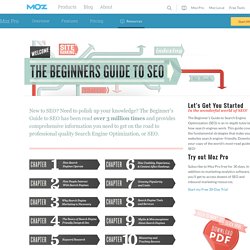 Need to polish up your knowledge? The Beginner's Guide to SEO has been read over 1 million times and provides comprehensive information you need to get on the road to professional quality SEO. How to effectively use SEO Doctor for diagnosing website problems. Recent update of SEO Doctor, my free SEO audit tool for Firefox, was a very important release as now the add-on features the most comprehensive set of on-site optimization tools found in any extension, paid or free.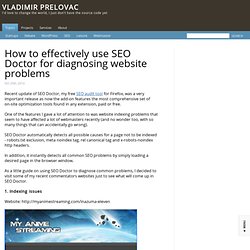 One of the features I gave a lot of attention to was website indexing problems that seem to have affected a lot of webmasters recently (and no wonder too, with so many things that can accidentally go wrong). SEO Doctor automatically detects all possible causes for a page not to be indexed - robots.txt exclusion, meta noindex tag, rel canonical tag and x-robots-noindex http headers. In addition, it instantly detects all common SEO problems by simply loading a desired page in the browser window.
As a little guide on using SEO Doctor to diagnose common problems, I decided to visit some of my recent commentators websites just to see what will come up in SEO Doctor. SEO Basics - a knol by aaron wall. Search engine optimization (SEO) is the art and science of publishing and marketing information that ranks well in search engines like Google, Yahoo!
Search, and Microsoft Bing. If you run into any new jargon while reading this Knol consider looking up their definitions using the Search Engine Marketing Glossary . Manual - How can SEMRush.com be valuable for you? Enter a domain name into the search line and press "GO".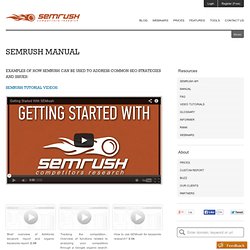 Here is an example of the report generated for the domain Microsoft.com: The main report for this domain contains summaries of all reports available for Microsoft.com. To discover what keywords this domain ranks in Google's TOP 20 for, click on the "Full Report" link under either the "Organic keywords" report or the "Google keywords" link in the left menu ( (by organic)). Guide. Introduction: SEOquake is a program, which allows user to view a large number of SE parameters on the fly.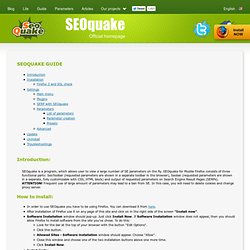 SEOquake for Mozilla Firefox consists of three functional parts: SeoToolbar (requested parameters are shown in a separate toolbar in the browser), Seobar (requested parameters are shown in a separate, fully customizable with CSS, HTML block) and output of requested parameters on Search Engine Result Pages (SERPs). ATTENTION! The Blogger's Guide to SEO - by Aaron & Giovanna Wall.
---