French Language
Welcome to the new Fi community website News and important updates... Français interactif's developers are excited to announce a new website, Voices for Openness in Language Learning, http://sites.la.utexas.edu/voices/.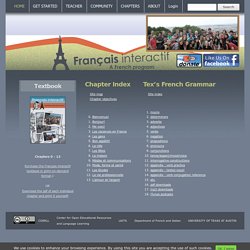 Basic French words and phrases
ver1: -er verbs (regular) present tense
French Courses in France | French Language Schools in France
Popular destinations in France learn French Paris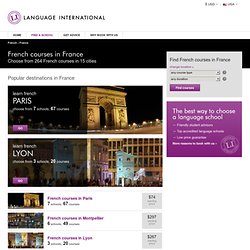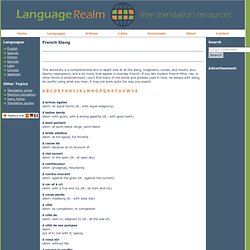 French Slang Dictionary | Language Realm
This dictionary is a comprehensive and in-depth look at all the slang, vulgarisms, curses, and insults, plus idioms, expressions, and a lot more, that appear in everday French. If you like modern French films, rap, or other forms of entertainment, you'll find many of the words and phrases used in here. As always with slang, be careful using what you hear; it may not work quite the way you expect. à armes égales idiom. on equal terms (lit.: with equal weaponry) à belles dents idiom. with gusto, with a strong appetite (lit.: with good teeth) à bout portant idiom. at point-blank range; point-blank
Funny Commercial: French Language School (AvisoAd.Com)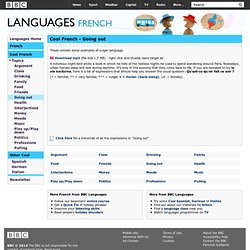 These contain some examples of vulgar language. Download mp3 (file size 1,7 MB) - right click and choose 'save target as' A notorious night-bird wrote a book in which he tells of the restless nights he used to spend wandering around Paris. Nowadays, urban heroes sleep and rest during daytime. It's only in the evening that they come back to life.