Pizza
Lemon Sauced Pizza with Fresh Arugula, Salumi and Pecorino. Recipe: LEMON SAUCED PIZZA 1 pizza dough (bread machine, artisan recipe or favorite dough recipe)2 Tbls. butter1/2 shallot (minced)Juice of 1 lemonZest of 1 lemon2 Tbls.
White Winepinch of red pepper flakessalt/pepper1 cup heavy whipping cream1 cup grated Asiago or Pecorino CheeseFresh Basil (or Lemon Basil)1) In a large skillet on Med. heat - melt the butter and add the minced shallot. Cook til soft, about 3 minutes. 2) Add the lemon juice, zest and white wine. Continue stirring over Low/Med heat (to de-glaze the pan and incorporate the flavors.) Pizza Puffs. These pizza puffs work as an appetizer or a fun dinner.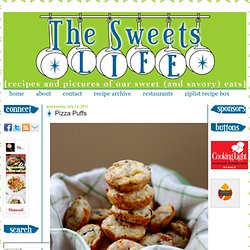 Perhaps Rachel Ray intended them as a recipe for kids, but I found that they were incredibly "man-friendly" as well. I made a double batch, with the intention of freezing half for a later date and leaving the second half for Ryan's "man night" (video games and cigar smoking, in case you were wondering). When I pulled them out of the oven, however, Ryan suggested I nix the freezer idea and leave them all for him and his friends.
Potato Pizza for One w/ Whole Wheat Garlic Crust. As much as I love all whole grains, I haven't made my peace with whole grain pizza crust.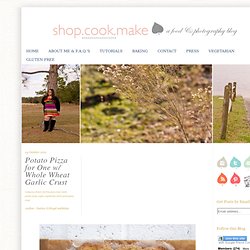 It always ends up mealy and flavorless. So I took a cue from my newest favorite pizza place, and added mashed garlic to the crust. It helped a lot in the flavor department. I wasn't able to taste the strong wheat flavor. Still the crust wasn't as good as I expected. Homemade Pizza Recipes. We've rounded up an amazing collection of homemade pizza Instructables to tempt any palette.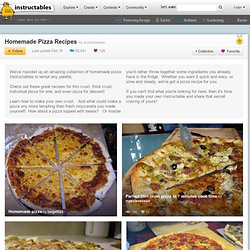 Check out these great recipes for thin crust, thick crust, individual pizza for one, and even pizza for dessert! Learn how to make your own crust. And what could make a pizza any more tempting than fresh mozzarella you made yourself! How about a pizza topped with beans? Or maybe you'd rather throw together some ingredients you already have in the fridge. Evolving thoughts on a laminated cracker crust. I know cracker crusts don't create a lot of excitement, and the thought of a laminated one creates even less excitement, but I wanted to pass on an experiment which made this pizza pretty easy to make.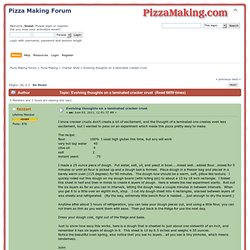 The recipe:flour 100% I used high gluten this time, but any will workvery hot tap water 45olive oil 4salt 2instant yeast .75 I made a 25 ounce piece of dough. Put water, salt, oil, and yeast in bowl....mixed well...added flour...mixed for 5 minutes or until all flour is picked up and a dough ball is formed. DKM's Thin Crust w/Pictures. Last night I made two of my best-to-date thin crust pizzas using DKM's Pizza Inn recipe!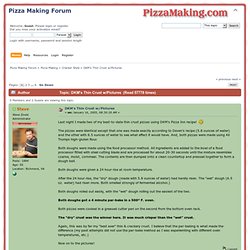 The pizzas were identical except that one was made exactly according to Deven's recipe (5.8 ounces of water) and the other with 6.5 ounces of water to see what effect it would have. And, both pizzas were made using All Trumps high-gluten flour. Both doughs were made using the food processor method. All ingredients are added to the bowl of a food processor fitted with steel cutting blade and are processed for about 20-30 seconds until the mixture resembles coarse, moist, cornmeal.
---