Bread
Boston Market Cornbread. This cornbread is SO yummy!!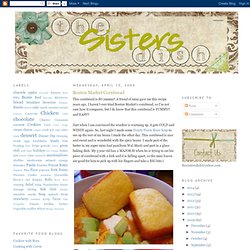 A friend of mine gave me this recipe years ago. I haven't ever tried Boston Market's cornbread, so I'm not sure how it compares, but I do know that this cornbread is YUMMY!! Fantastic French Toast Starts with Homemade Buttermilk Bread . . . Some things in life are debatable and always will be--politics, religion, how the Detroit Tigers will do in the upcoming season (anyone's guess, yet our affection for them never wanes), but one thing is certain: If you want really good French toast, you have to start with fantastic bread.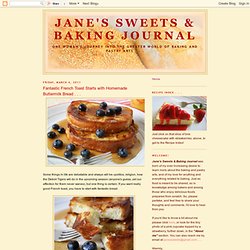 There's a lot to be said for a day-old loaf of this homemade buttermilk bread. Though it doesn't retain the just-baked enchantment that it had yesterday, its magic has evolved and matured. It's a little denser, moister, and ever so slightly sweeter than a garden-variety, home-baked white bread. I used a couple slices of it this morning to make a nice, thick PB and J sandwich for my younger son's brown-bag lunch. I'm tellin' ya, a peanut-butter and blackberry jam sandwich gives off an entirely different aura when it's made with this stuff. Russian Tea Cakes. 166 My mother was a good cook who served up a variety of delicious dinners for her four little kidlets.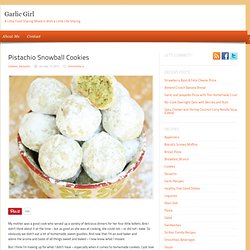 And I didn't think about it at the time - but as good as she was at cooking, she could not – or did not- bake. So obviously we didn't eat a lot of homemade, sweet goodies. And now that I'm an avid baker and adore the aroma and taste of all things sweet and baked – I now know what I missed. Brown Butter Soda Bread. Brown Butter Soda Bread with Honey- Cinnamon Butter My Mother-in-Law apparently makes the best Irish Soda Bread.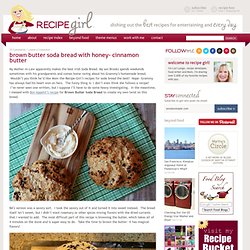 My son Brooks spends weekends sometimes with his grandparents and comes home raving about his Grammy's homemade bread. Wouldn't you think he'd like Mom-the-Recipe-Girl's recipes for soda bread the best? Sweet or Savory: How Do You Like Your Irish Soda Bread? It almost seems wrong pitting one type of recipe against another, but we realize that individual preferences can be quite strong when it comes to Irish soda bread.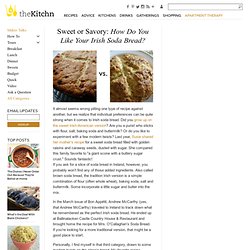 Did you grow up on the sweet Irish-American version? Are you a purist who sticks with flour, salt, baking soda and buttermilk? Or do you like to experiment with a few modern twists? Last year, Susie shared her mother's recipe for a sweet soda bread filled with golden raisins and caraway seeds, dusted with sugar. She compared this family favorite to "a giant scone with a buttery sugar crust. " Irish Soda Bread. Over the past few years, I've watched Mike bake loaf after loaf of perfect Irish soda bread.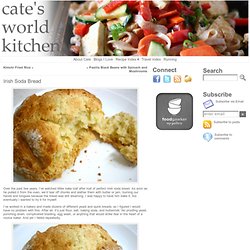 As soon as he pulled it from the oven, we'd tear off chunks and slather them with butter or jam, burning our hands and tongues because the bread was still steaming. I was happy to have him bake it, but eventually I wanted to try it for myself. I've worked in a bakery and made dozens of different yeast and quick breads, so I figured I would have no problem with this. Irish Soda Bread. I avoid the Irish soda bread trend every Saint Patrick's Day.
Partly because I'm a party pooper and only do themed posts for the super important holidays but mostly because every other food blogger has a post about soda bread going up about this time. Plus bread with raisins? That doesn't even have yeast? Irish soda bread scones. Let's just get this out of the way from the get-go — don't let the title fool you.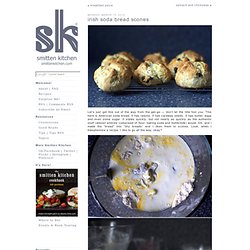 This here is American soda bread. It has raisins. Cook's Illustrated Almost No Knead. A Clever Variation of an "Old" Theme My hat is off to CooksIllustrated.com for formulating a worthy variation to the now famous New York Times no knead recipe.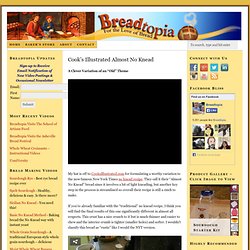 They call it their "Almost No Knead" bread since it involves a bit of light kneading, but another key step in the process is streamlined so overall their recipe is still a cinch to make. If you're already familiar with the "traditional" no knead recipe, I think you will find the final results of this one significantly different in almost all respects. This crust has a nice crunch to it but is much thinner and easier to chew and the interior crumb is tighter (smaller holes) and softer. I wouldn't classify this bread as "rustic" like I would the NYT version. Bread Experience Blog. Steve's high-protein, high-fiber, low-carb bread.
I've enjoyed baking bread for twenty years, and expected to really miss it when we started low-carbing in April 2003.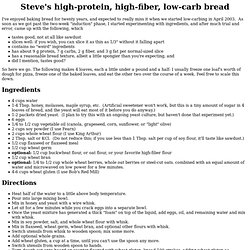 As soon as we got past the two-week "induction" phase, I started experimenting with ingredients, and after much trial and error, came up with the following, which tastes good, not at all like sawdust slices well: if you wish, you can slice it as thin as 1/3" without it falling apart contains no "weird" ingredients has about 9 g protein, 7 g carbs, 2 g fiber, and 3 g fat per normal-sized slice has a reasonable bread texture, albeit a little spongier than you're expecting, and did I mention, tastes good? So here we go. The following makes 4 loaves, each a little under a pound and a half: I usually freeze one loaf's worth of dough for pizza, freeze one of the baked loaves, and eat the other two over the course of a week.
Feel free to scale this down. Recipe Index. 47% Rye Bread September 21, 2008 70% Rye with Whole Wheat September 8, 2009 72% Whole Wheat Sandwich Rolls/Burger Buns June 8, 2010. The Minimalist - The Secret of Great Bread - Let Time Do the Work. Baking Bread in a Dutch Oven! (see post below for winner of the book giveaway!) Here is yet another way to get a fabulous crust on your bread without using any steam in the oven. I mentioned my very unsophisticated disposable lasagna pan as an option and now I present you with yet another ingenious idea.
Baking bread in a Dutch oven was made popular by a Mark Bittman's article in the New York Times about baker Jim Lahey. No Knead Bread: so easy a 4-yr old can make it! Monday, September 10, 2007 No Knead Bread: so easy a 4-yr old can make it! It's been almost a year since NY Times unveiled the secret to the revolutionary No-Knead Bread.
---