Sociétés Secrètes
Nouvel ordre mondial. Les Sociétés Secrètes Introduction Une société secrète est une organisation qui ne révèle pas ses activités aux personnes venant du dehors.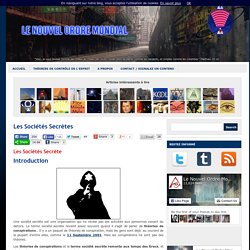 Les Sociétés Secrètes. F.D. Roosevelt. Sociétés Secrètes. Un article de Wikipédia, l'encyclopédie libre.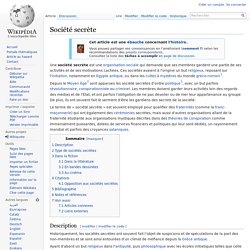 Une société secrète est une organisation sociale qui demande que ses membres gardent une partie de ses activités et de ses motivations loin des regards de personnes qui lui sont étrangères, des médias et de l'État. Les buts supposés de ces sociétés sont fréquemment d'ordre politique et dans ce cas on peut parler de conspirationnisme, mystique ou criminel. Les membres ont parfois l'obligation de ne pas dévoiler ou de nier leur appartenance au groupe. De plus, ils ont souvent fait le serment d'être les gardiens des secrets de la société. Secret Society, Fraternal organizations abbreviations, slogans, mottoes, a complete list: A-L. Top 10 Secret Societies. No matter what their supposed purpose, there's something inherently sinister about a secret society.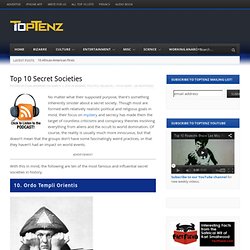 Though most are formed with relatively realistic political and religious goals in mind, their focus on mystery and secrecy has made them the target of countless criticisms and conspiracy theories involving everything from aliens and the occult to world domination. Of course, the reality is usually much more innocuous, but that doesn't mean that the groups don't have some fascinatingly weird practices, or that they haven't had an impact on world events. With this in mind, the following are ten of the most famous and influential secret societies in history. 10. Secret society. "Secret Society Buildings at Yale College", by Alice Donlevy[1] ca. 1880.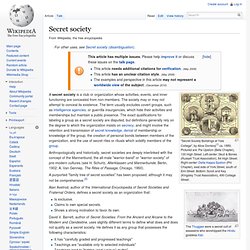 Pictured are: Psi Upsilon (Beta Chapter), 120 High Street. Left center: Skull & Bones (Russell Trust Association), 64 High Street. Right center: Delta Kappa Epsilon (Phi Chapter), east side of York Street, south of Elm Street. Bottom: Scroll and Key (Kingsley Trust Association), 490 College Street. Illuminati. History The Owl of Minerva perched on a book was an emblem used by the Bavarian Illuminati in their "Minerval" degree.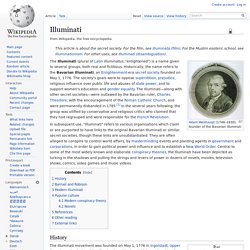 The movement was founded on May 1, 1776, in Ingolstadt (Upper Bavaria) as the Order of the Illuminati, with an initial membership of five,[2] by Jesuit-taught Adam Weishaupt (d. 1830),[3] who was the first lay professor of canon law at the University of Ingolstadt.[1] It was made up of freethinkers as an offshoot of the Enlightenment and seems to have been modeled on the Freemasons.[4] The Illuminati's members took a vow of secrecy and pledged obedience to their superiors. Members were divided into three main classes, each with several degrees, and many Illuminati chapters drew membership from existing Masonic lodges.
Skull and Bones. History[edit] Skull and Bones was founded in 1832 after a dispute between Yale debating societies Linonia, Brothers in Unity, and the Calliopean Society over that season's Phi Beta Kappa awards.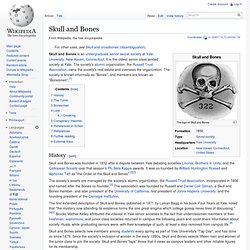 It was co-founded by William Huntington Russell and Alphonso Taft as "the Order of the Skull and Bones".[2][3]
---