Sociétés Secrètes
nouvel ordre mondial
Les Sociétés Secrètes Introduction Une société secrète est une organisation qui ne révèle pas ses activités aux personnes venant du dehors.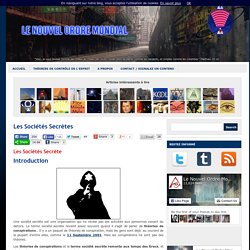 Les Sociétés Secrètes. F.D. Roosevelt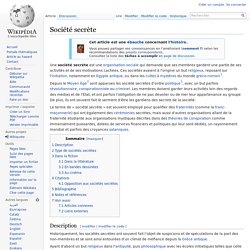 Sociétés Secrètes
Un article de Wikipédia, l'encyclopédie libre. Une société secrète est une organisation sociale qui demande que ses membres gardent une partie de ses activités et de ses motivations loin des regards de personnes qui lui sont étrangères, des médias et de l'État. Les buts supposés de ces sociétés sont fréquemment d'ordre politique et dans ce cas on peut parler de conspirationnisme , mystique ou criminel . Les membres ont parfois l'obligation de ne pas dévoiler ou de nier leur appartenance au groupe. De plus, ils ont souvent fait le serment d'être les gardiens des secrets de la société.
Secret Society, Fraternal organizations abbreviations, slogans, mottoes, a complete list: A-L.
Top 10 Secret Societies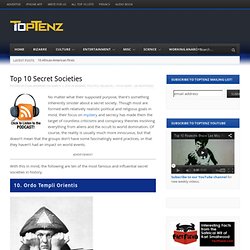 No matter what their supposed purpose, there's something inherently sinister about a secret society. Though most are formed with relatively realistic political and religious goals in mind, their focus on mystery and secrecy has made them the target of countless criticisms and conspiracy theories involving everything from aliens and the occult to world domination. Of course, the reality is usually much more innocuous, but that doesn't mean that the groups don't have some fascinatingly weird practices, or that they haven't had an impact on world events. With this in mind, the following are ten of the most famous and influential secret societies in history. 10.
"Secret Society Buildings at Yale College", by Alice Donlevy [ 1 ] ca. 1880.
Secret society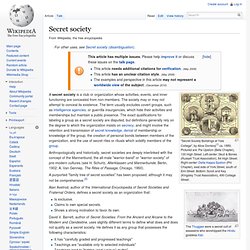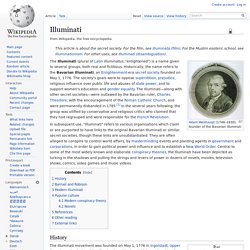 The Illuminati (plural of Latin illuminatus , "enlightened") is a name given to several groups, both real and fictitious. Historically the name refers to the Bavarian Illuminati , an Enlightenment -era secret society founded on May 1, 1776 to oppose superstition , prejudice , religious influence over public life, abuses of state power , and to support women's education and gender equality . The Illuminati were outlawed along with other secret societies by the Bavarian government leadership with the encouragement of the Roman Catholic Church , and permanently disbanded in 1785. [ 1 ] In the several years following, the group was vilified by conservative and religious critics who claimed they had regrouped and were responsible for the French Revolution .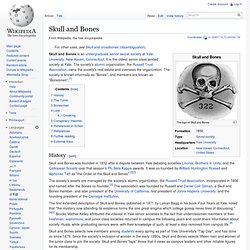 Skull and Bones
The logo of Skull and Bones Skull and Bones is an undergraduate senior secret society at Yale University , New Haven, Connecticut . It is the oldest senior class landed society at Yale and acknowledged as the leader among the College's Big Three societies that include Scroll and Key Society and Wolf's Head Society .