Sciences
Venice Time Machine | Digital Venice. Friday morning, students presented their interdisciplinary group projects for the Venice Time Machine.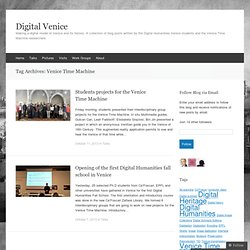 In situ Multimedia guides. Gulcan Can, Leah Faibisoff, Elisbateta Graziosi, Bin Jin presented a project in which an anonymous Venitian guide you in the Venice of 16th Century. This augmented reality application permits to see and hear the Venice of that time while… Portails de revues scientifiques. Sites divers. Archéologie. Astronomie.
Bibliothèques Virtuelles. Chimie. Encyclopédies. Ethnologie. Mathématiques. Physique. Sciences de la Terre.
---