Photos Journalisme
World Press Photo. World's famous photos | greatest photos ever taken. Photography and Photos of the Day. The37thFrame.org. Noorimages.com.
Photo Journal. PDN Photo of the Day. Pictures of the Year International. Agence VU. VII Photo Agency. Magnum Photos. Home. Best Photos from Reuters | Shareordie. ImfDiffusion. Agence France-Presse (AFP) publishes a remote server called "ImageForum", which can be accessed at the following address: www.imageforum-diffusion.afp.com .
The server comprises in particular, but is not limited to, software, databases incorporated therein, graphics, texts, data (jointly referred to as the "Site") enabling access to AFP photographs, illustrations, still graphics and the related captions (hereinafter referred to as the "Content"). : Agence France-Presse, an autonomous legal entity registered with the Register of Commerce of Paris under number 775.658.354, whose head office is located at 13 place de la Bourse, CS 40212, 75086 Paris CEDEX 02, France. Tel.: +33(0)1 40 41 46 46. European press photo agency - epa. World Press Photo.
Rex Features. Foto8. The Big Picture. Many indigenous groups, including the Huni Kui, Ashaninka, and Madija, live in villages in the Brazilian rainforest near the border with Peru.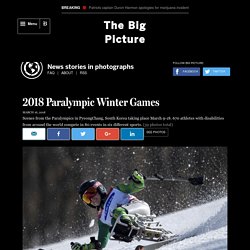 Over the past three years, the Ashaninka and Madija say that they have seen more and more incursions on their territory from uncontacted tribes, defined by Survival International as groups who have no peaceful contact with mainstream society. The "Bravos," or "Braves," as uncontacted Indians are called in the region, carry out raids on other villages, putting the communities along the Envira River on permanent alert.
World Press Photo. New York Times Photojournalism - Photography, Video and Visual Journalism Archives - Lens Blog. Photos and Galleries. The Big Picture.
---