Oral Activities
Randall's ESL Cyber Listening Lab. Interactive Stories. Interactive Stories or Guided Stories is the name of an English language teaching technique developed by Mark White, a language teacher/writer based in Asia.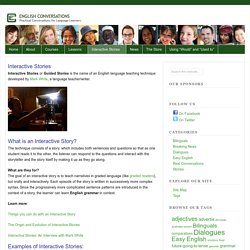 What is an Interactive Story? The technique consists of a story, which includes both sentences and questions so that as one student reads it to the other, the listener can respond to the questions and interact with the storyteller and the story itself by making it up as they go along. Elllo | English Listening Online. Free demo to create avatars using Text-to-Speech (TTS) by SitePal.
English conversation phrases and expressions for speaking practice. Podcaz_audio_anglais. Breaking News English Lessons: ESL Plans Teaching Current Events. Oral English Activities. This site is no longer being actively maintained, but I've received enough grateful emails from teachers over the years to know that it's still being used.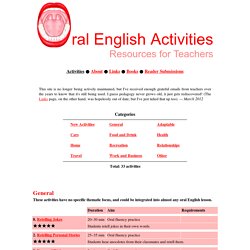 I guess pedagogy never grows old, it just gets rediscovered! (The Links page, on the other hand, was hopelessly out of date, but I've just tidied that up too). — March 2012 KEYWORDS: ESL, EFL, TEFL, TESL, China, communicative oral english activities, communicative verbal english activities, communicative spoken english activities, communicative conversational english activities, oral english classes, verbal english classes, spoken english classes, conversational english classes, english conversation classes, oral english lessons, oral english lesson plans, verbal english lessons, verbal english lesson plans, spoken english lessons, spoken english lesson plans, conversational english lessons, conversational english lesson plans. Debates, discussion & speaking activity lessons for esl teachers.
Social issues lessons Vocabulary and language for discussions.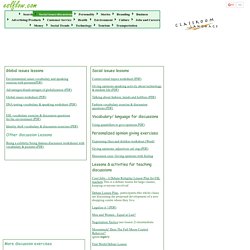 ---