Minéralogie
La radioprotection du mineralogiste
Mindat is the largest mineral database and mineralogy reference website on the internet. This site contains worldwide data on minerals, mineral collecting, mineral localities and other mineralogical data. This site is growing every day, with new mineral information, localities and photographs added by members. The Mindat Directory is your online source for mineral dealers, gem, lapidary, fossil products, clubs, shows and personal websites.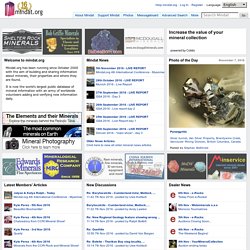 Mindata
How do I enable Java if it's been blocked?How do I enable Java through the Control Panel? The Mineralogy Database was last updated on 9/5/2012 and it contains 4,714 individual mineral species descriptions with links and a comprehensive image library. Visit the "What's New" section for details. Each mineral has a page linked to tables devoted to crystallography, crystal structures, X-Ray powder diffraction, chemical composition, physical and optical properties, Dana's New classification, Strunz classification, mineral specimen images, and alphabetical listings of mineral species. There also are extensive links to other external sources of mineral data and information.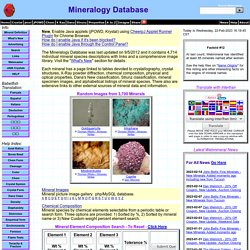 Mineralogy Database
21st General Meeting of the IMA: IMA 2014 September 2014 in South Africaemail: info@ima2014.co.za Photo courtesy of H.-P. Schertl The International Mineralogical Association takes great pride in awarding the 2013 IMA Medal for Excellence in Mineralogical Research to Professor Nikolay V.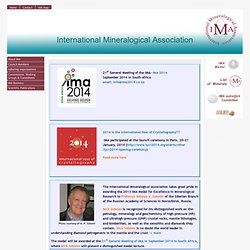 IMA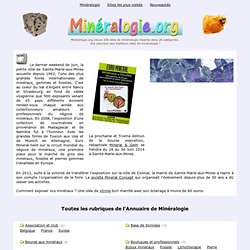 Minéraux et Minéralogie
Le dernier weekend de juin, la petite ville de Sainte-Marie-aux-Mines accueille depuis 1962, l'une des plus grandes foires internationales de minéraux, gemmes et fossiles. C'est au coeur du Val d'Argent entre Nancy et Strasbourg en fond de vallée vosgienne que 900 exposants venant de 45 pays différents donnent rendez-vous chaque année aux collectionneurs amateurs et professionnels du négoce de minéraux. En 2008, l'exposition d'une collection de tourmalines en provenance de Madagascar et de Namibie fut à l'honneur. Avec les grandes foires de Tuscon aux Usa et de Munich en Allemagne, Euro Mineral tient sur le circuit mondial du négoce de minéraux, une première place pour le marché de gros des minéraux, fossiles et pierres gemmes travaillées en Europe.
Heartbleed Bug Our website is not affected by Heartbleed. Get the details.
The Geological Society of America -- Promoting Geoscience Worldwide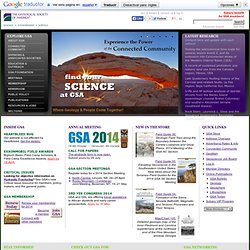 PROYECTO NAICA / CUEVA DE LOS CRISTALES
2 événements majeurs en 2014 à l'EAGE L'EAGE (European Association of Geoscientists and Engineers) partenaire de la Société Géologique de France organise cette année deux événements majeurs: la Convention annuelle du16 au19 juin à Amsterdam et la conférence annuelle de la Division Near Surface qui se tiendra à Athènes du 14 au 18 décembre. Prix de thèse de la SFMC et la SGF La Société Française de Minéralogie et Cristallographie et la Société Géologique de France décernent conjointement leurs prix de thèse annuels, le prix Haüy-Lacroix pour la première et les prix Van Straelen et Ami Boué pour la seconde. 24è Réunion des Sciences de la Terre / Pau La soumission des résumés est ouverte du 15 Janvier au 15 Mai 2014. N'hésitez pas à soumettre votre contribution qui contribuera à l'élaboration d'un programme technique de qualité.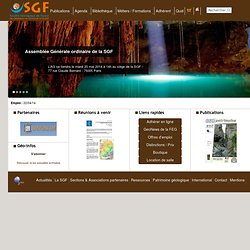 Société géologique de France - accueil
Société géologique de France - accueil