Litterature
GutenMark, a Project Gutenberg markup program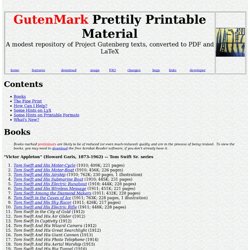 Books marked preliminary are likely to be of reduced (or even much-reduced) quality, and are in the process of being revised.
19th-Century Literature
SoFurry is the home for artists and fans of the anthropomorphic arts. We believe that all types of furry creativity are precious, in freedom of choice and the uniting power of our common interests. We believe in you. Come join us. Share your artwork, animations, stories and music with all of us, enjoy the works shared by others, buy and sell commissions, and build your own community groups with their own forum and chat.
The furry creativity home