English
The American Presidency Project. Eisenhower Presidential Library and Museum. ACS Publications Home Page. Lectures on Probability and Statistics. Harry S. Truman Library and Museum. The House Explained. What is a Representative?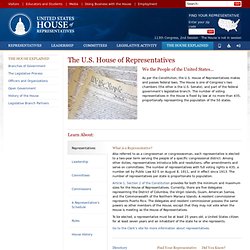 Also referred to as a congressman or congresswoman, each representative is elected to a two-year term serving the people of a specific congressional district. Among other duties, representatives introduce bills and resolutions, offer amendments and serve on committees. The American Nation Online. A Reference Resource. The Online Books Page. Examples: Entering austen, jane in the Author field finds books by Jane Austen.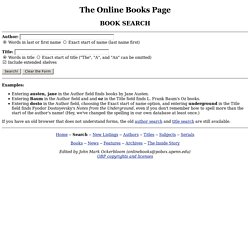 Entering Baum in the Author field and and oz in the Title field finds L. Frank Baum's Oz books. MLibrary Homepage. Open Content Alliance (OCA) The New York Public Library. Smithsonian Institution. Bartleby.com: Great Books Online -- Quotes, Poems, Novels, Classics and hundreds more. LibraryThing. OpenEdition. Bibliomania - Free Online Literature and Study Guides. LibrarySpot. PLoS | Leading a transformation in research communication. Open Library. The WWW Virtual Library. ArXiv.org e-Print archive. Library of Congress Home. Library of Congress Authorities. Historic American Newspapers. Internet Archive. Library Think Quest. As of July 1, 2013 ThinkQuest has been discontinued.
We would like to thank everyone for being a part of the ThinkQuest global community: Students - For your limitless creativity and innovation, which inspires us all. Teachers - For your passion in guiding students on their quest. Partners - For your unwavering support and evangelism. Library of Congress. Community: A New Name for "Open Source" Collections. Internet Archive has changed the names of the Open Source Audio, Open Source Books, and Open Source Movies collections.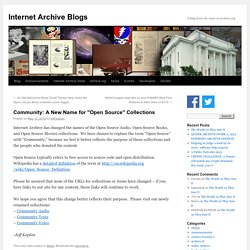 We have chosen to replace the term "Open Source" with "Community," because we feel it better reflects the purpose of these collections and the people who donated the content. Open Source typically refers to free access to source code and open distribution. Good reads. International Journal of Food Studies. The International Journal of Food Studies (IJFS), a journal of the ISEKI_Food Association, is an international peer-reviewed open-access journal featuring scientific articles on the world of Food in Education, Research and Industry.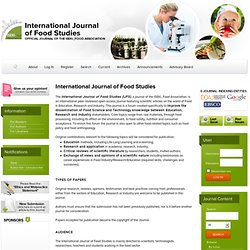 This journal is a forum created specifically to improve the dissemination of Food Science and Technology knowledge between Education, Research and Industry stakeholders. Core topics range from raw materials, through food processing, including its effect on the environment, to food safety, nutrition and consumer acceptance. To enrich this forum the journal is also open to other food-related topics such as food policy and food anthropology. Original contributions relevant to the following topics will be considered for publication: HathiTrust. DMOZ - Open Directory Project.
---