Digital magazines
ISO 1200 Magazine | Photography Video blog for photographers
National Geographic Creative helps the photographers they represent get commercial assignments by presenting their skillets in a new way. "I asked my assistant to turn the flash off and I fired a couple of shots in almost complete darkness. I thought the picture wasn't going to turn out..." Pro photographers share what they look for when hiring and re-hiring their assistants.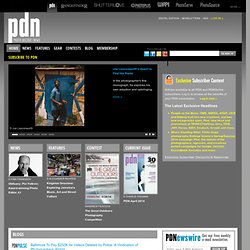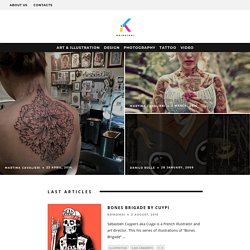 The madness of Michael Mapes Michael Mapes was born in Fort Knox (Kentucky), now based in NY. He elaborates boxes by dissecting photographs (but also small insects, gelatin capsules, paillettes) and assembling it with glass, pins and test tubes. His creations are between photography and sculpture, both working as portraits. Mapes's new serie will be... » read more "Odd Things" by Erika Sanada
La Photographie est votre passion, vous souhaitez partager cette passion avec d'autres Photographes Amateurs, avides comme vous de belles images. Alors ce site est le vôtre ! Amoureux de belles images ? Désireux de mieux nous connaître ? Amateur à la recherche d'un club près de chez vous qui vous aidera à progresser grâce à ses équipements et ses compétences dans une ambiance conviviale ?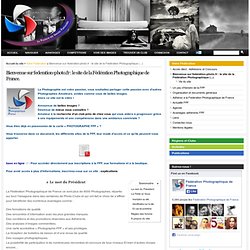 Bienvenue sur federation-photo.fr
Photoliens
Actualité magazine photo en ligne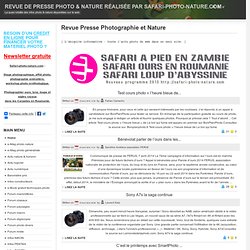 Revue Presse Photographie et Nature [ L'ubiquité informative : toute l'actu photo du web dans un seul site. ] Written on 07 Avril 2014, 11.35 by Fabien Camacho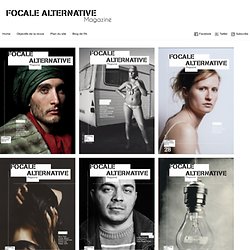 Magazine Focale Alternative #29 : Un pas de plus vers la démarcheLigne éditoriale de décembre 2012Après la réalisation d'un rêve papier le mois dernier, je suis revenu à une édition plus conventionnelle en version numérique. J'ai profité du travail réalisé pour utiliser la maquette de… Magazine Focale Alternative #27Ligne éditoriale de juin 2012Une nouvelle pierre est de nouveau posée avec ce numéro. Petit à petit, mois après mois, Focale Alternative Magazine avance à son rythme pour partager des regards photographiques divers et variés.… Magazine Focale Alternative #24 : Cyklope – Collectif photographiqueLigne éditoriale de mars 2012Pour ce mois de mars 2012, je continue ma thématique autour des collectifs photographiques. » Pourquoi ces photographes se rassemblent-ils ?
30 magazines photo en ligne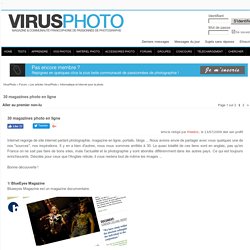 Internet regorge de site internet parlant photographie. magazine en ligne, portails, blogs ... Nous avions envie de partager avec vous quelques une de nos "sources", nos inspirations. Il y en a bien d'autres, nous nous sommes arrêtés à 30.
PixPopuli
Everything you need to shoot stunning images Do you dream of shooting stunning landscape images? The team at Digital SLR Photography magazine are on hand with all the information, advice and inspiration you need to create breathtaking professional looking photographs with the fifth edition of their best-selling MagBook. Updated to include new camera technology, techniques and equipment, this comprehensive MagBook contains easy-to-follow tutorials across all aspects of landscape photography. From top composition tips and advice on using lenses, to guides on exploiting natural light and managing colour from industry professionals, you'll find everything you need to know within this ultimate guide for digital photographers'.
Digital SLR Photography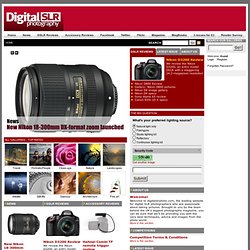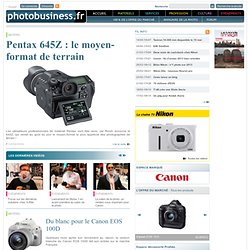 Appareils Photos | Appareil Photo Numérique | Cadres Photos Numériques | Optique Nikon | Objectifs Canon | Accessoires Sony | Logiciels Photos
Focus-sur-les-dernieres-solutions-chez-X-Rite-News-Photobusiness,1805.html#video Focus sur les dernières solutions chez X-Rite Lancement-du-Stylus-1-en-avant-premiere-au-salon-de-la-photo-News-Photobusiness,1803.html#video