3D
Panoramic images from all over the world: 360 degree pictures from 5 continents and 26 countries (fullscreen spherical panorama)
Tokyo - Odaiba, Japan
Virtual Tour of the Forbidden City
Qin Terracotta Army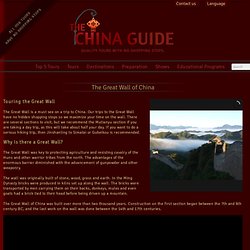 China tours 3 Days • CNY 1,140 Ask about child discounts, it depends on their age and height. This is an example of a Beijing family tour which can be further modified to suite your needs. We can add airport transfers and family friendly hotels. Our guides are experienced at working with families and will be flexible and helpful.
The Great Wall of China
Plaza Mayor of Lima Peru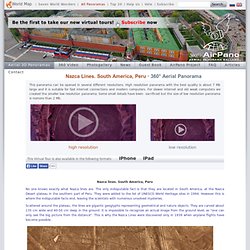 Nazca Lines. South America, Peru
Nazca lines. South America, Peru. No one knows exactly what Nazca lines are. The only indisputable fact is that they are located in South America, at the Nazca Desert plateau in the southern part of Peru.
The Pyramids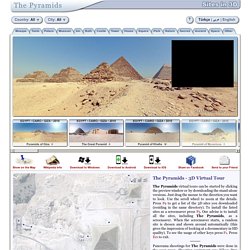 The Pyramids - 3D Virtual Tour The Pyramids virtual tours are installation free programs that will make you feel as if you are there. Just drag the mouse to the direction you want to look. Use the scroll wheel to zoom at the details.
3D Ancient Wonders, archeological reconstruction online virtual museum
Só Riso Mail Vídeos Cómicos Funny Videos - Mais uma projeção 3D sensacional
Manhattan, New York, USA