Books!
I used to work in a smallish independent bookstore and it was truly one of the best jobs I ever had. To be surrounded by endless glorious volumes, to enter every morning into this multicolored world of words and pictures was truly a pleasure. I loved rearranging shelves (endlessly), lining up the books this way and that.
THOUGHT PATTERNS: Bookstores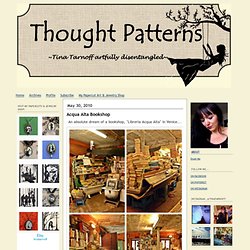 the best ebooks at the best price: free! Browse through the most popular titles, recommendations, or recent reviews from our visitors. Perhaps you'll find something interesting in the special collections. There are more than 29,000 eBooks available for Kindle, Nook, iPad and most other eReaders, and they're all free! If you still can't decide what to read you might want to browse through some covers to see what strikes your fancy. Or try the Recent Additions to the library, with genre filter.