Mobile
Share photos and videos on Twitter
Gadgets, les QR Codes ? Ou bien pub déguisée ? Pas si sûr… Les QR codes pourraient bien changer quelques habitudes de votre quotidien.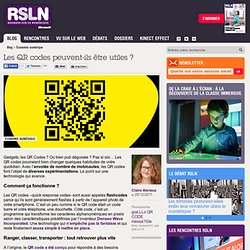 Imaginée par BBDO New York, ce dispositif invite le consommateur à verser de la Guinness dans son verre, la teinte noire de la bière permet ainsi de dévoiler un QR Code. Une fois scanné, le système se connecte directement à vos comptes Foursquare, Facebook, Twitter et Instagram : les statuts sont mis à jour, des promotions envoyées et vos amis sont invités à vous rejoindre. Vous aimiez déjà la première gorgée de bière ?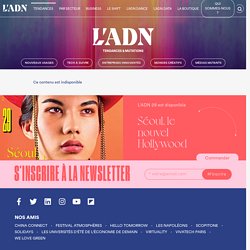 Le QR Code se fait mousser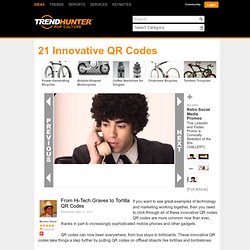 21 Innovative QR Codes - From Hi-Tech Graves to Tortilla QR Codes (CLUSTER)
If you want to see great examples of technology and marketing working together, then you need to click through all of these innovative QR codes. QR codes are more common now than ever, thanks in part to increasingly sophisticated mobile phones and other gadgets.
In the same way that bar codes don't have to be boring, quick response codes can also be creative. Thanks to a 30% tolerance in readability, you can have some real fun with clever designs.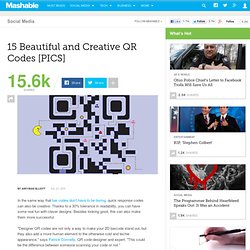 Quand les codes QR font preuve de créativité
Sortes de codes-barres améliorés, les codes QR font aujourd'hui de plus en plus souvent preuve de fantaisie et d'inventivité pour grignoter des parts de marché!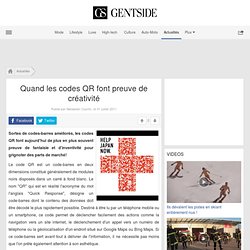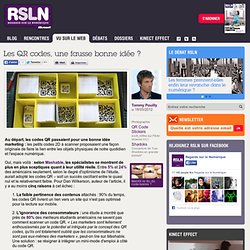 Les QR codes, une fausse bonne idée ?
Au départ, les codes QR passaient pour une bonne idée marketing : les petits codes 2D à scanner proposaient une façon originale de faire le lien entre les objets physiques de notre quotidien et l'espace numérique.
Holly Ross is the executive director of NTEN: The Nonprofit Technology Network, where she helps her members put technology to use for social change.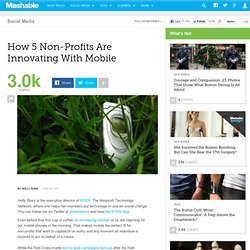 How 5 Non-Profits Are Innovating With Mobile
iAd : combien ça coûte, combien ça rapporte
L'audience de l'Internet mobile au premier trimestre 2011
Google reste le numéro 1 incontesté alors que la montée en puissance de l'éditeur de jeux King.com ne se dément pas. Le classement des audiences des groupes les plus importants sur mobile est toujours dominé par Google au moins d'octobre, selon les résultats de Médiamétrie//Netratings.
Observatoire_Economique_des_Services_Mobiles.pdf - Powered by Google Docs
Ce que font les mobinautes sur leur smartphone
Le marché français du m-commerce a pesé 500 millions d'euros en 2010, selon le cabinet Xerfi, qui estime qu'il grimpera à plus de 13 milliards d'ici 2015.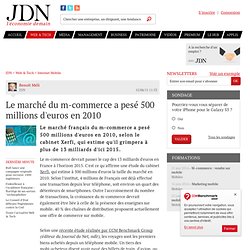 Le marché du m-commerce a pesé 500 millions d'euros en 2010
3,3 millions de Français ont déjà testé le m-commerce, essentiellement pour des voyages et des biens culturels.
Plus de 3 millions de Français ont déjà acheté sur leur mobile
Les principales places de marché d'applications mobiles
Les 25 applications iPhone les plus téléchargées en Europe
34% du trafic Internet mobile en France est généré par l'iPhone