Japon
Le "Big One" de Tokyo serait pour bientôt
A quelques jours de l'anniversaire de la catastrophe du 11 mars, la crainte d'un séisme qui secouerait la capitale se fait de plus en plus ressentir. La presse japonaise nourrit les inquiétudes, en interprétant des études et en se référant à l'Histoire. « ». Pas de place pour la nuance entre les gros caractères de la une du Shukan Gendai.
Portrait d'un des derniers forgeurs d'épée japonais
Have a bunch of outside-the-US European reviews to post, but here is some info on an inside-the-US shop not too far from where we now live in in NJ. Many restaurants in this area of NJ will be small shops in "strip-mall" or "mini-mall" style buildings. Also this area has a (relatively) high population of Chinese (mainland, Taiwan, HK, etc.) and Korean residents (among other backgrounds). Rai Rai Ramen is a small shop which has a bit of Taiwanese bent and has mostly noodle dishes.
Ramen Tokyo ラーメン東京 - Guides, shop reviews, and maps all in Engli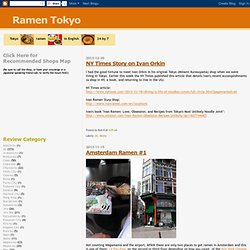 Bon, je crois bien être maudit avec les Yabusame (tir à l'arc à cheval... voilà mon premier post sur le sujet : cliquez) ! Chaque fois, il y a une coquille... J'arrive en retard, trop en avance (comme là), les gars sont nuls (là), portent des lunettes (là aussi, et ça fait pas très authentique Alain Afflelou), j'ai pas pris le bon matos (là encore par exemple, le NEX5 et son AF de compact ne faisait pas l'affaire... par-contre, son mode rafale assure à 7fps)... etc... Bref, j'ai encore raté mes photos de Yabusame ! Prochain round, au printemps, pour avoir une déco sympa à Asakusa (voir mon post ici), parc'que là, en plus d'avoir mis les spectateurs super loin, ils avaient mis sur les cordes des p'tites pancartes avertissant qu'il ne faut pas trop s'approcher... pour info on était bloqué par une autre corde à au moins 20m de celle avec les pancartes ! C'est pas tout ça, mais faut que je me prépare pour la séance Photo Life Style/Tokyo Safari de demain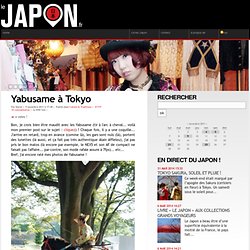 Yabusame à Tokyo - Blog photos du Japon - voir le Japon autrement !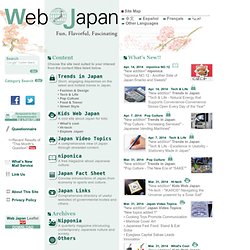 Content Choose the site best suited to your interest from the content titles listed below. Trends in Japan Kids Web Japan Japan Video Topics A comprehensive view of Japan through streamed content.
I just recently got the collector's edition of Bravely Default. A 3DS game developed by square enix, the same company that own the Final Fantasy franchise. This game could acutally be called Final Fantasy, because that what it is. It the same kind of plot, characters and class/jobs from the famous serie. I'm 20 or so hours in, and I'm having a blast, the combat system is solid and there is no tidious or boring section so far. I think the collector's edition is sold out pretty much everywhere, but I strongly recommend picking this game up if you have a 3DS.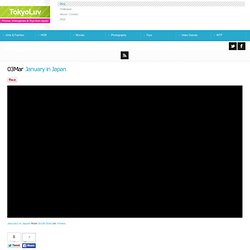 Unagi desu!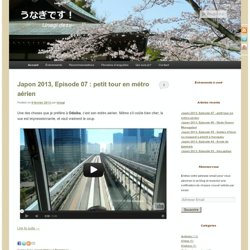 Après m'être baladé au milieu des temples et jardins de Narita , me voici de retour au temple principale où la cérémonie de Setsubun ne va pas tarder à commencer. La foule n'est pas aussi compacte que pour la cérémonie qui avait lieu vers 14h, mais il y avait quand même un peu de monde. Il est peut-être temps d'ailleurs d'expliquer ce qu'est cette fameuse cérémonie…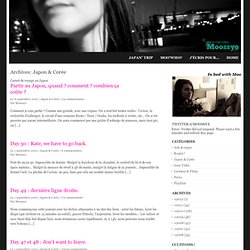 Japan Trip ! | Some Memories by Moossye - Part 2
Partir au Japon, quand ? comment ? combien ça coûte ?
Sushi Trip ! - Un an au Japon