MBA
Martinelli-Waddel-5-07.pdf (application/pdf Object)
Related Content High Performance Web Sites Google Maps, Yahoo! Mail, Facebook, MySpace, YouTube, and Amazon are examples of Web sites built to scale. They access petabytes of data sending terabits per second to millions of users worldwide.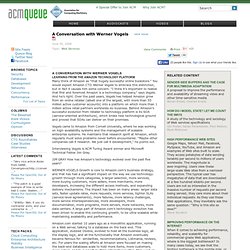 A Conversation with Werner Vogels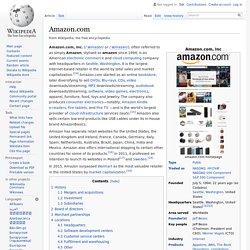 Amazon.com, Inc. is an American international electronic commerce company with headquarters in Seattle, Washington, United States. It is the world's largest online retailer.[9][10][11] Amazon.com started as an online bookstore, but soon diversified, selling DVDs, VHSs, CDs, video and MP3 downloads/streaming, software, video games, electronics, apparel, furniture, food, toys, and jewelry. The company also produces consumer electronics—notably the Amazon Kindle e-book reader and the Kindle Fire tablet computer—and is a major provider of cloud computing services. Jeff Bezos incorporated the company (as Cadabra) in July 1994 and the site went online as Amazon.com in 1995.[12] The company was renamed after the Amazon River, one of the largest rivers in the world,[12] which in turn was named after the Amazons, the legendary nation of female warriors in Greek mythology.
This is a cross-post from my personal blog. Few weeks ago I asked a question on quora about log aggregation. I was surprised to find that no opensource solution came close to what I wanted, but I got a lot of suggessions to try out splunk. So I did. What I wanted was an aggregation tool which collects, displays and alerts based on events logged by the various webservers across the network which could be in different datacenters.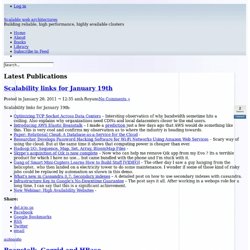 Scalable web architectures
Characteristics[edit] SOAP can form the foundation layer of a web services protocol stack, providing a basic messaging framework upon which web services can be built. This XML based protocol consists of three parts: an envelope, which defines what is in the message and how to process it, a set of encoding rules for expressing instances of application-defined datatypes, and a convention for representing procedure calls and responses. SOAP has three major characteristics: Extensibility (security and WS-routing are among the extensions under development), Neutrality (SOAP can be used over any transport protocol such as HTTP, SMTP, TCP, or JMS) and Independence (SOAP allows for any programming model).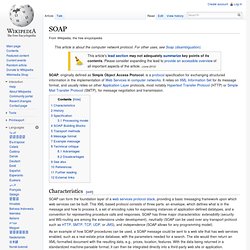 Model of the systems development life cycle, highlighting the maintenance phase. The systems development life cycle (SDLC), also referred to as the application development life-cycle, is a term used in systems engineering, information systems and software engineering to describe a process for planning, creating, testing, and deploying an information system.[1] The systems development life-cycle concept applies to a range of hardware and software configurations, as a system can be composed of hardware only, software only, or a combination of both.[2] Overview[edit] A systems development life cycle is composed of a number of clearly defined and distinct work phases which are used by systems engineers and systems developers to plan for, design, build, test, and deliver information systems.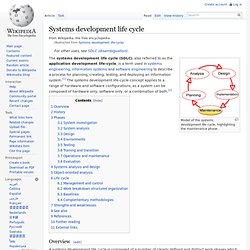 Systems Development Life Cycle - Wikipedia, the free encyclopedi
Scalable Internet Architectures Presentation 2.pdf (application/
Author : Exforsys Inc. Published on: 26th Nov 2005 | Last Updated on: 28th Nov 2010 Software Architecture & Design Patterns This article reviews some of the architecture Design patterns for Enterprise Applications built using the .NET Platform. Application Architecture: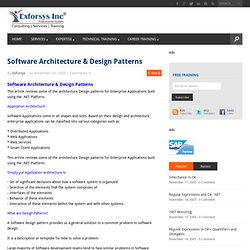 Software Architecture & Design Patterns
This tutorial outlines the first fundamental principle of object oriented programming which is the encapsulation of information and functionality within a class. Inheritance and polymorphism will be examined in the next tutorial. Encapsulation Encapsulation is the ability of an object to be a container (or capsule) for related properties (ie. data variables) and methods (ie. functions). Older languages did not enforce any property/method relationships.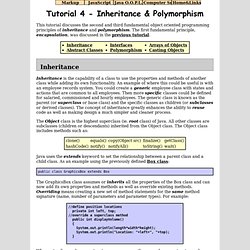 Java Tutorial 4 - Encapsulation and Classes
Creational Patterns - Factory Pattern Factory of what? Of classes. In simple words, if we have a super class and n sub-classes, and based on data provided, we have to return the object of one of the sub-classes, we use a factory pattern. Let's take an example to understand this pattern. Example: Let's suppose an application asks for entering the name and sex of a person.
JAVA DESIGN PATTERNS, Creational Patterns - Factory Pattern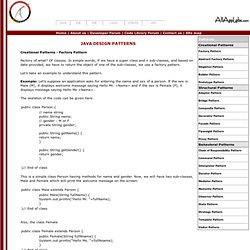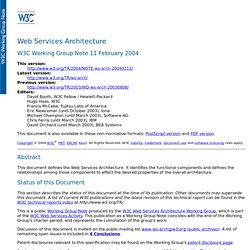 Web Services Architecture
2.2 How to read this section The architecture is described in terms of a few simple elements: concepts, relationships and models. Concepts are often noun-like in that they identify things or properties that we expect to see in realizations of the architecture, similarly relationships are normally linguistically verbs. As with any large-scale effort, it is often necessary to structure the architecture itself. We do this with the larger-scale meta-concept of model. A model is a coherent portion of the architecture that focuses on a particular theme or aspect of the architecture.