Children
Thank you for registering! Below is all the information you need to participate in our Summer Online xPo, including session access links, schedule information, and more chances to win one of three NOOK Color e-readers.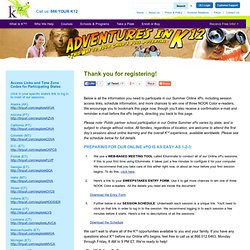 We encourage you to bookmark this page now, though you'll also receive a confirmation e-mail and reminder e-mail before the xPo begins, directing you back to this page. Please note: Public partner school participation in our Online Summer xPo varies by state, and is subject to change without notice. All families, regardless of location, are welcome to attend the first day's sessions about online learning and the overall K¹² experience, available worldwide. Please see the schedule below for full details. Internet4Classrooms - Helping Students, Teachers and Parents Use the Internet Effectively.
Head of the Class. Math Worksheets, Tables, Charts and Tutoring Help from HelpingWithMath.com. AAASpell.com - Practice Your Spelling. Super Teacher Worksheets - Printable Worksheets. Keyboarding Games for Kids - Learning to Type Games for Kids.
---