Libraries
Tools - KitwarePublic
From KitwarePublic This page was based on Sebastien Barre's VTK Links: Tools page. These are not directly integrated to VTK, but might be useful in specific context.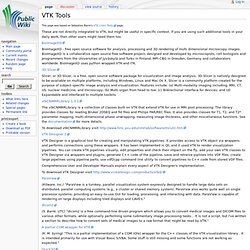 Insight Segmentation and Registration Toolkit
Gandalf Home Page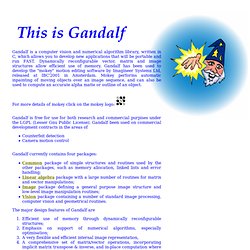 Gandalf is a computer vision and numerical algorithm library, written in C, which allows you to develop new applications that will be portable and run FAST. Dynamically reconfigurable vector, matrix and image structures allow efficient use of memory. Gandalf has been used to develop the "mokey" motion editing software by Imagineer Systems Ltd, released at IBC'2001 in Amsterdam. Mokey performs automatic inpainting of moving objects over an image sequence, and can also be used to compute an accurate alpha matte or outline of an object. For more details of mokey click on the mokey logo: Gandalf is free for use for both research and commercial purpises under the LGPL (Lesser Gnu Public License).
★ Add a Review 19 Downloads (This Week) Last Update:
LTI-Lib (C++ Computer Vision Library)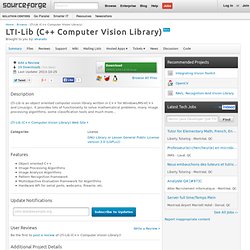 Multiple view geometry in computer visiond