Google Analytics/Privacy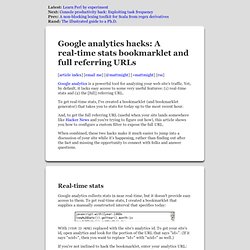 Google analytics hacks: A real-time stats bookmarklet and full referring URLs
Google analytics is a powerful tool for analyzing your web site's traffic. Yet, by default, it lacks easy access to some very useful features: (1) real-time stats and (2) the [full] referring URL. To get real-time stats, I've created a bookmarklet (and bookmarklet generator) that takes you to stats for today up to the most recent hour. And, to get the full referring URL (useful when your site lands somewhere like Hacker News and you're trying to figure out how), this article shows you how to configure a custom filter to expose the full URL.
(Cross-posted from the Google Analytics Blog ) Back in Episode 10 of Web Analytics TV , (32:00), Lisa C from Melbourne asked how to pull a trending report from Google Analytics for the top organic search landing pages. This was such a great question, that we wrote 2 articles and released sample code describing how you can automate retrieving this data from Google Analytics Data Export API. But first let's look at the results. Here is a graph plotting traffic to the top 100 landing pages for organic search for all of June for www.googlestore.com .
Increase your productivity with the Google Analytics API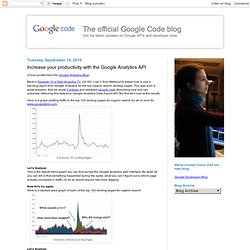 Libraries: Privacy Statement
Skip to main content Site Search You are here Home Page not found Page not found. Please report a problem .
Privacy Policy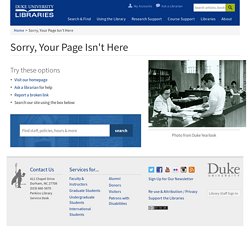 New – Google Analytics on Library Web Site Beginning January 2009 the Duke University Libraries will use Google Analytics to gather statistics on portions of its web site. The Libraries will use the information gathered to improve web services for its patrons. Google Analytics employs cookies to define user sessions , which allows for the collection of important data about how our patrons are using the Library's site. Google Analytics uses only first-party cookies for data analysis. This means that the cookies are linked to the Libraries' website domain(s), and Google Analytics will only use that cookie data for statistical analysis related to your browsing behavior on the Libraries' websites According to Google, the data collected cannot be altered or retrieved by services from other domains.
Introduction As more and more digital content goes online, libraries today are fundamentally different than they were as recently as five years ago. Websites have become an essential component of library service, and designing these websites involves both technical and administrative decision-making. During the past five years, the Rutgers-Newark Law Library (RNLL) has used different methods to figure out exactly what our visitors are looking for on our website . Recently, we used Google Analytics to track our visitors' behaviors, and pinpointed the motivations behind their information-seeking.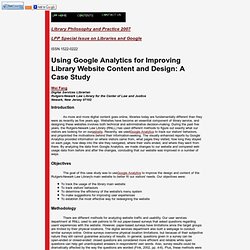 Using Google Analytics for Improving Library Website Content and Design: A Case Study, Wei Fang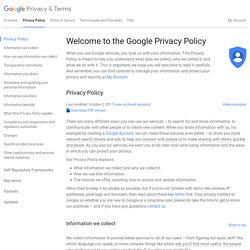 Last modified: July 27, 2012 ( view archived versions ) There are many different ways you can use our services – to search for and share information, to communicate with other people or to create new content. When you share information with us, for example by creating a Google Account , we can make those services even better – to show you more relevant search results and ads, to help you connect with people or to make sharing with others quicker and easier.
Your privacy is important to us. To better protect your privacy we provide this notice explaining our online information practices and the choices you can make about the way your information is collected and used. To make this notice easy to find, we make it available on our homepage and at every point where personally identifiable information may be requested. Google, as a third party advertisement vendor, uses cookies to serve ads on this site.
Privacy Policy | Default
If your organization collects information from the users of your website — and the odds are that it does, if little more than the IP addresses scooped up by your site statistics package — have you posted a site privacy policy?
Does Your NonProfit Website Need a Privacy Policy?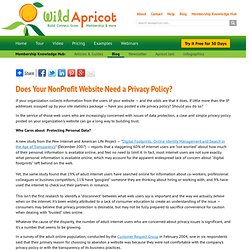 Site Statistics and User Privacy for Nonprofit Websites
Sorry about that! Please check the spelling of your URL, or head back to the TechSoup homepage . Using the navigation bar above, you can search our site for resources and tech solutions; browse our product donations by solution, organization type, or TechSoup donor partner; and scan our featured topics, such as broadband and disaster planning. TechSoup Resources Qualification Checklist (PDF) Example IRS Determination Letter (PDF) Example Name Correction Letter (PDF) Example Address Correction Letter (PDF) Donation Request Form (PDF) Microsoft Title Groups and Products (PDF)
Privacy Policy
The Electronic Frontier Foundation (EFF) is committed to protecting the privacy of visitors to our website, as well as our members and activists. EFF has established this Privacy Policy to explain what information we collect through our websites and how it is used.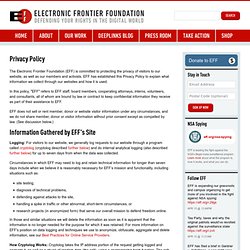 The Future of Search: A One-Act Play in Three Acts (Act Two) - S
SEW presents the weekend column.
The New Gold Mine: Your Personal Information & Tracking Data Online
Article Excerpt Hidden inside Ashley Hayes-Beaty's computer, a tiny file helps gather personal details about her, all to be put up for sale for a tenth of a penny. The file consists of a single code— 4c812db292272995e5416a323e79bd37—that secretly identifies her as a 26-year-old female in Nashville, Tenn. The code knows that her favorite movies include "The Princess Bride," "50 First Dates" and "10 Things I Hate About You." It knows she enjoys the "Sex and the City" series.
These Google Analytics Terms of Service (this "Agreement" ) are entered into by Google Inc.
Analytics | Official Website
Google Opt Out Feature Lets Users Protect Privacy By Moving To Remote Village
Tracking Multiple Websites & Blogs in Google Analytics in a Single Profile
Google Analytics, German Privacy and Paid Analytics Tools | dees-club
One cool feature of Bitbucket is the ability to track traffic to your repositories using Google Analytics .
Setting Up Google Analytics For Your Bitbucket Repositories : Code Monkey Labs
Is Google Watching You? New Plugin Will Let You Know [APPS]
Another rad browser plugin called Google Alarm hit the Internets this week, which alerts you every time your personal info is sent to Google's servers. How? Via notifications, a running tally of dangerous sites and, naturally, a super annoying, vuvuzela -like alarm. After seeing this new plugin — which works with both Firefox and Chrome — on F.A.T. , I contacted the developer who made it: Jamie Wilkinson , who also created Know Your Meme and Mag.ma. Google Alarm, which was made during F.A.T.'
Ad Cookies and Privacy