Adserve
There are discussions recently about China's online ad network business booming, led by the capital market. At least two new large ad networks in the country I know have received strategic investment from either venture capital or private equity firms. Generally speaking, ad networks in China either focus on CPM-based or CPS (cost per sale)-based ads. In terms of technology, both use behavioural targeting that promises to give advertisers better profiling of target audience and better returns based on behavioural traits based on audience frequency.
Why China's Ad Networks Are Different From the West
Dipleague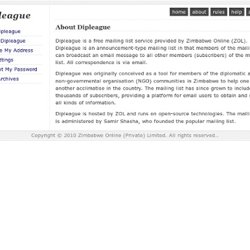 Dipleague is a free mailing list service provided by Zimbabwe Online (ZOL). Dipleague is an announcement-type mailing list in that members of the mailing list can broadcast an email message to all other members (subscribers) of the mailing list. All correspondence is via email. Dipleague was originally conceived as a tool for members of the diplomatic and non-governmental organisation (NGO) communities in Zimbabwe to help one another acclimatise in the country. The mailing list has since grown to include thousands of subscribers, providing a platform for email users to obtain and share all kinds of information. Dipleague is hosted by ZOL and runs on open-source technologies.
htmlSQL/examples at master · hxseven/htmlSQL
Screen scraping is the art of programatically extracting data from websites. If you think it's useful: it is . If you think it's difficult: it isn't . And if you think it's easy to really piss off administrators with ill-considered scripts, you're damn right . This is a tutorial on not just screen scraping , but socially responsible screen scraping . Its an amalgam of getting the data you want and the Golden Rule , and reading it is going to make the web a better place.
An Introduction to Compassionate Screen Scraping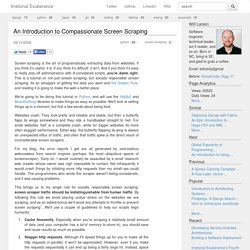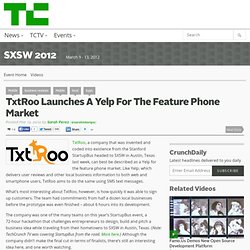 TxtRoo , a company that was invented and coded into existence from the Stanford StartupBus headed to SXSW in Austin, Texas last week, can best be described as a Yelp for the feature phone market. Like Yelp, which delivers user reviews and other local business information to both web and smartphone users, TxtRoo aims to do the same using SMS text messages. What's most interesting about TxtRoo, however, is how quickly it was able to sign up customers. The team had commitments from half a dozen local businesses before the prototype was even finished – about 6 hours into its development. The company was one of the many teams on this year's StartupBus event, a 72-hour hackathon that challenges entrepreneurs to design, build and pitch a business idea while traveling from their hometowns to SXSW in Austin, Texas. ( Note: TechCrunch TV was covering StartupBus from the road.
TxtRoo Launches A Yelp For The Feature Phone Market
PHPCrawl - Webcrawler Class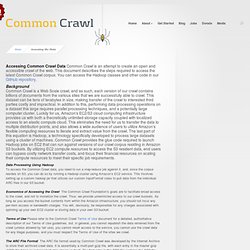 Accessing the Data | CommonCrawl
Accessing Common Crawl Data Common Crawl is an attempt to create an open and accessible crawl of the web. This document describes the steps required to access the latest Common Crawl corpus. You can access the Hadoop classes and other code in our GitHub repository . Background Common Crawl is a Web Scale crawl, and as such, each version of our crawl contains billions of documents from the various sites that we are successfully able to crawl.
commoncrawl/commoncrawl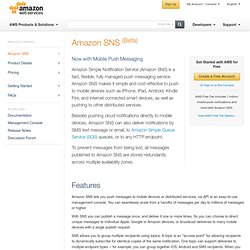 Amazon Simple Notification Service (Amazon SNS) is a web service that makes it easy to set up, operate, and send notifications from the cloud. It provides developers with a highly scalable, flexible, and cost-effective capability to publish messages from an application and immediately deliver them to subscribers or other applications. It is designed to make web-scale computing easier for developers.
Simple Notification Service (Amazon SNS)
GoMo Guides
Get Started
James Citron is CEO and Co-Founder of Mogreet , the world's first mobile video marketing platform. The digital entrepreneur has more than a decade of experience in the mobile industry with a proven track record for introducing successful, cutting-edge technology into the global marketplace. Follow him at @jamescitron . Five years ago, a Canadian handset company stormed onto the scene with the hottest "must have" mobile device. The RIM BlackBerry was around before the iPhone , when the Droid was still just science fiction.
4 Ways BlackBerry Can Stay Relevant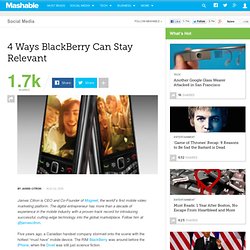 New tools to help online publishers Go Mobile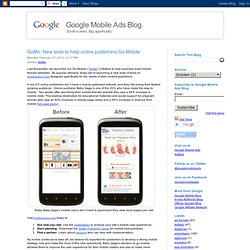 Last November, we launched our Go Mobile (" GoMo ") initiative to help business build mobile friendly websites. By popular demand, today we're launching a new suite of tools on howtogomo.com designed specifically for the needs of web content publishers. 4 out of 5 online publishers don't have a mobile-optimized website, and they risk losing their fastest-growing audience. Online publisher Baby Gaga is one of the 20% who have made the leap to mobile. Two weeks after launching their mobile-friendly website they saw a 64% increase in mobile visits. This leading destination for educational materials and social support for pregnant women also saw an 82% increase in mobile page views and a 50% increase in revenue from mobile ( full case study ). Today Baby Gaga's mobile users don't need to squint and they view more pages per visit.
Top 5 Mobile Advertising Trends To Watch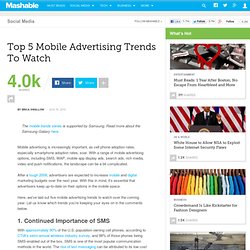 Mobile advertising is increasingly important, as cell phone adoption rates, especially smartphone adoption rates, soar. With a range of mobile advertising options, including SMS, WAP, mobile app display ads, search ads, rich media, video and push notifications, the landscape can be a bit complicated. After a tough 2009 , advertisers are expected to increase mobile and digital marketing budgets over the next year. With this in mind, it's essential that advertisers keep up-to-date on their options in the mobile space. Here, we've laid out five mobile advertising trends to watch over the coming year. Let us know which trends you're keeping your eyes on in the comments below.
Smarter Hello
Pricing
Pricing
Atomic Mobile
Pricing - 46elks.com - Empower your apps with Voice, SMS & MMS
Publishers « « Cox Digital Solutions Cox Digital Solutions
Make more money from your inventory, reach bigger audiences, and work smarter. Cox Digital Solutions has built a suite of publisher services that maximize ad revenue and allow for greater operating efficiencies. Best of all, these services all fall under one unified roof so you no longer need to partner with multiple vendors for each one of your necessary services. As part of Cox, we've been in the business of partnering with and work for our publisher partners for over 100 years.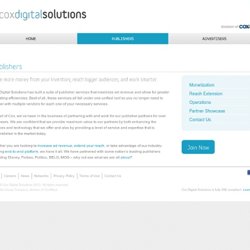 DoubleClick Network Builder: Build and manage partner networks
Pricing for Publishers Get Started free up to 100 million impressions Publisher packages start for free, but you can add-on features for as little as $50, including: Bronze Support Robust Documentation Email Starts at $50/mo White Label
Pricing | Adzerk