Vintage lab
Musei agricoli
PR e affini. Partner-clienti. Competitors. Riferimenti modernariato. Interior design. Soldi. Share and rent.
Remodelista: Sourcebook for the Considered Home. Shopping. The Beauty Of Urban Decay: 50 Mindblowing Photography. The branch of photography that particularly deals with the capturing shots of abandoned and desolate buildings which are normally not taken care of is called Urban Decay Photography.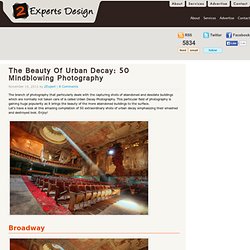 This particular field of photography is gaining huge popularity as it brings the beauty of the more abandoned buildings to the surface. Let's have a look at this amazing compilation of 50 extraordinary shots of urban decay emphasizing their smashed and destroyed look. Enjoy! Exposants – Tatou Juste. Tatou Juste vous invite à rencontrer et à échanger avec ceux qui agissent ici et maintenant pour dessiner un monde qui leur convient.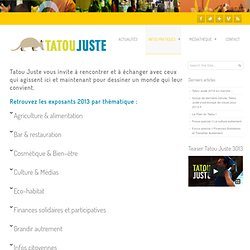 Retrouvez les exposants 2013 par thématique : Importation d'huile d'argan.
Servizi associati. Strumenti. Brand. Archive Vintage Rentals. New Reader? Start Here... I'm Jess and I am a country girl living, with my husband, in a 110 year old house that is less than 2 miles from the house I grew up in.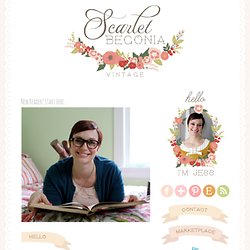 We were married last October and have spent most of our free time since renovating our house. I am passionate about creating spaces I love and when we aren't working on our house I can be found at flea markets or garage sales looking for great items to bring home. I am constantly browsing my favorite websites and blogs for inspiration to help me furnish my house and my hope for this blog is to be that sort of inspiration to you. Anthropologie | Home | Women's clothes, accessories and homeware.
Filing Cabinet. I've been doing a lot of online window shopping lately, like it's my job.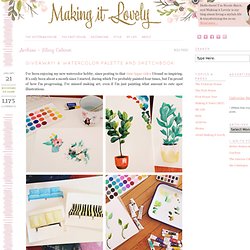 (Oh, wait a minute…) I sometimes get it in my head that I need to find a very specific item, like an antique blue and white vase with brass trim similar to the one I used in this room design, so I keep popping over to eBay every so often to see what's available. Have you noticed their new eBay Collections feature yet? I've been spotting them alongside some of my searches, and finding some fun things I may not have thought to search for otherwise. | Copy Cat Chic | chic for cheap. Retreat Vintage Market. Leslie janson by lesliejanson. Happy Spring to you!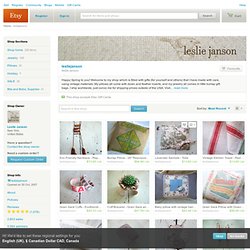 Welcome to my shop which is filled with gifts (for yourself and others) that I have made with care, using vintage materials. My pillows all come with down and feather inserts, and my jewelry all comes in little burlap gift bags. I ship worldwide, just convo me for shipping prices outside of the USA. Visit my bits and bobs section for vintage lovelies I've found in my travels, and my blog: lesliejanson.com Thank you to all who came out to support The Art Show Bedford, The Bartlett Arboretum Spring Garden Event in Stamford, CT, The Katonah Museum of Art Trunk Show in Katonah, NY, and The Maker's Market at The Aldrich Contemporary Museum of Art in Ridgefield, CT. Scarlet Begonia Vintage. Lucky So and So. Visualise. Fish Pattern Stock Photo. Image Information Description seamlessly tiling retro fish pattern (plus label for usage as card or cover) Keywords.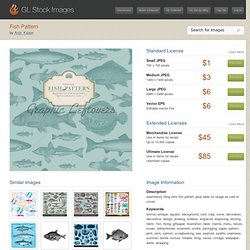 Torie Jayne. Mix. Interior Design and Furniture in the USSR. Welcome!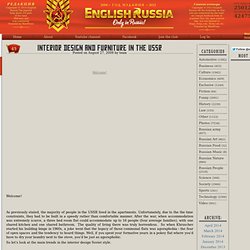 As previously stated, the majority of people in the USSR lived in the apartments. Unfortu­nately, due to the the time constraints, they had to be built in a speedy rather than comfortable manner. After the war, when accommodation was extremely scarce, a three bed room flat could accommodate up to 16 people (four average families), with one shared kitchen and one shared bathroom. The quality of living there was truly horrendous.
Polyvore. If It's Hip, It's Here. About the Milano Group. 0 Members Welcome to the Milano Freecycle group!
The Freecycle Network™ is made up of 5,121 groups with 7,223,118 members across the globe. It's a grassroots and entirely nonprofit movement of people who are giving (and getting) stuff for free in their own towns and thus keeping good stuff out of landfills. Membership is free, and everything posted must be FREE, legal and appropriate for all ages. To view the items being given away or sought in Milano, you must be a member of the local group. AMIU. Case study#1: Furriadroxiu and 12 Asian cities. Nel post Italie da Abitare abbiamo pubblicato un'introduzione al progetto Case study#1: Furriadroxiu and 12 Asian cities, gli autori ci hanno aggiornato sugli sviluppi del loro lavoro.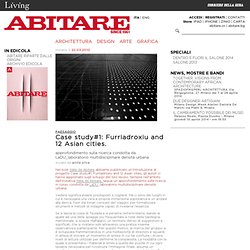 Sempre nell'ambito dell'iniziativa Italie da Abitare, segue un approfondimento sulla ricerca in corso, condotta da LaDU_laboratorio multidisciplinare densità urbana. Vedere significa essere predisposti a cogliere. Ma ci sono dei luoghi in cui è necessaria una vera e propria immersione esplorativa e un andare alla deriva, fuori dai binari consueti del viaggio, per formalizzare strumenti e metodi di indagine capaci di rivelarne l'essenza. Se si lascia la costa di Teulada e si penetra nell'entroterra, dando le spalle ad una delle spiagge più frequentate e note della Sardegna meridionale, si scopre Malfatano, un territorio denso di suggestioni e significati, che si rivelano solo attraverso una pratica insieme osservativa e partecipante. Keystrokes and Trivialities Blogazine by bellitude at Kaboodle. PICCOLI DETTAGLI... CHE CONTANO... Vintage Home Accessories - The Online Shopping Town.
Home | Borough Market. LIGHTING - Stylish lighting - Rose & Grey, Vintage Leather Sofas and Stylish Accessories. Lighting is essential to create ambience and mood in any space so make sure you get it right with our hand-picked collection.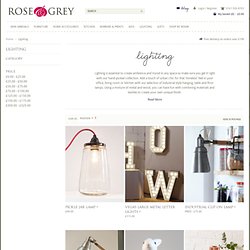 Add a touch of urban chic for that 'timeless' feel in your office, living room or kitchen with our selection of industrial style hanging, table and floor lamps. Using a mixture of metal and wood, you can have fun with combining materials and textiles to create your own unique finish. Our quirky take on classic country lighting comes with a twist and our fantastic multi angle lamps will add a retro inspired statement to any desk. Welcome - Rose & Grey, Vintage Leather Sofas and Stylish Accessories. Vintage home. Venerdì è arrivato a casa nostra un bel libro nuovo, ( grazie Mario!!) Di cui mi sono subito impossessata, perchè parla di interni "vintage": mi sono subito fatta catturare dalle immagini publicate, Officina Vintage - Home Page.
Vintage Junky - Vintage Home Style & Decor Shopping, Blog, & more! Eclectic home and garden decor - City Farmhouse - 111 Bridge Franklin, Tennessee. Vintage Home. HGTV - Decorating, Outdoor Rooms, Landscaping Ideas, Kitchen and Bathroom Design.
---