Brand
Kurry. 1669 Elzevir. This family was inspired from the set of font faces used in Amsterdam by Daniel Elzevir to print the famous "Tractatus de corde..." the study on earth anatomy by Richard Lower, in 1669.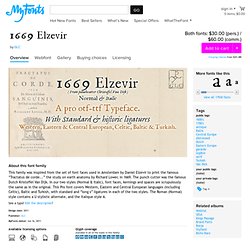 The punch cutter was the famous Dutch Kristoffel Van Dijk. In our two styles (Normal & Italic), font faces, kernings and spaces are scrupulously the same as in the original. This Pro font covers Western, Eastern and Central European languages (including Celtic), Baltic and Turkish, with standard and "long s" ligatures in each of the two styles. Oronteus Finaeus. More Fonts Like Saltpetre™ Oliver Jeffers - Illustration. NCS Colour - NCSColour. Will Bryant. Sina. Sina is a strong, sturdy and self-confident serif accented face.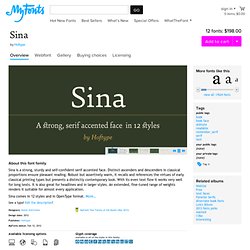 Distinct ascenders and descenders in classical proportions ensure pleasant reading. Robust but assertively warm, it recalls and references the virtues of early classical printing types but presents a distinctly contemporary look. With its even text flow it works very well for long texts. Lonny Blog - Home. Design*Sponge | Your home for all things Design. Home Tours, DIY Project, City Guides, Shopping Guides, Before & Afters and much more. Fiona watson art's Photostream.
Free Online Idea Management and Collaboration Service | Wridea.c. Patagonia's "Buy Less" Campaign May Lead to More Revenue - Eric Lowitt. By Eric Lowitt | 11:50 AM October 3, 2011 This post is part of the HBR Insight Center Growing the Top Line.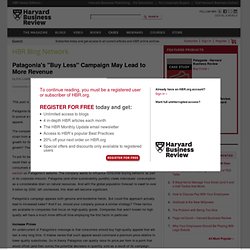 Patagonia has always behaved as a maverick company, and its concern for sustainability has led it to pursue a new initiative: it's now actively encouraging consumers to buy less of Patagonia's new apparel. The company intends to influence consumer behavior in order to lower the environmental strain from ever-growing consumption levels. Ottodesign - Milano. Thunderhouse. Monstro. Scratch n' Sniff. Anodyne. Anodyne is a warm and weathered all-caps font from Yellow Design Studio with hand-printed texture and unique shadow options.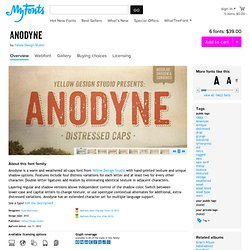 Features include four distress variations for each letter and at least two for every other character. Double-letter ligatures add realism by eliminating identical texture in adjacent characters. Layering regular and shadow versions allows independent control of the shadow color. Switch between lower-case and capital letters to change texture, or use opentype contextual alternates for additional, extra-distressed variations. Anodyne has an extended character set for multiple language support. About. Design*Sponge is a design blog run by Brooklyn-based writer, Grace Bonney.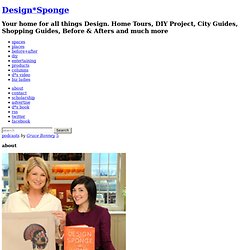 Launched in August of 2004, the site updates between 6-8 times per day and was declared a "Martha Stewart Living for the Millennials" by the New York Times. Design*Sponge attracts a diverse group of devoted readers across the globe. Design*Sponge currently has 75,000 daily readers on the main site, over 127,000+ RSS readers, 405,000+ Twitter followers and 70,000+ Facebook followers. Click here for PRESS on design*sponge. Antique, Mid-century Modern, Vintage Furniture and Lighting, Estate Jewelry, Antique Silver, Vintage Watches, Haute Couture, Luxury Items, Fashion Accessories. Marimekko. Emily Chalmers. Milleneufcentquatrevingtquatre. Seesaw. R's adventure. Phew, when life gets busy it seems blogging is the first thing that goes. two things i've seen this week that have encouraged me to get back in the blogging swing of things... first up, kate spade saturday. as part of the kate spade family, saturday brings the love of quirk and colour of kate spade at a more affordable pricepoint. the website design is spot on and i love the array of dresses, bags and even homewares. if only they shipped to nz!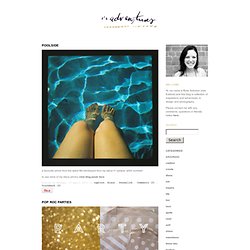 The other is this photo of victoria of sfgirlbybay, over at the every girl. nothing like a bloggers to-do, to get inspired :) happy easter weekend! Chuck Blakeman / Traditional Branding Isn't for Small Business. As we start out, we take cues from Giant Corporation, Inc. that we should develop cool logos, fancy brochures, zippy websites, and catchy copy.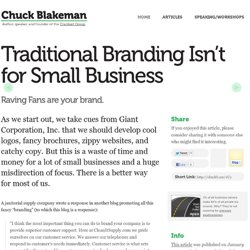 But this is a waste of time and money for a lot of small businesses and a huge misdirection of focus. There is a better way for most of us. A janitorial supply company wrote a response in another blog promoting all this fancy "branding" (to which this blog is a response): Stake Your Claim: Login. 1776 Independence. Urbana. Urbana is a contemporary, naturally condensed sans-serif typeface inspired by the traditional lettering found in Colombian city buses.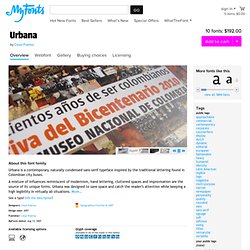 A mixture of influences reminiscent of modernism, hand lettering, cluttered spaces and improvisation are the source of its unique forms. Urbana was designed to save space and catch the reader's attention while keeping a high legibility in virtually all situations. More… Plz Print Brush.
---