Brand
Kurry
1669 Elzevir
Oronteus Finaeus
More Fonts Like Saltpetre™
Oliver Jeffers - Illustration
NCS Colour - NCSColour
Will Bryant
Sina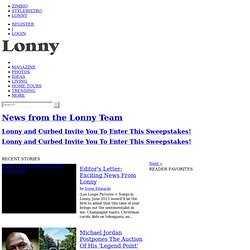 These faceted metallic-dipped studs are also our bargain of the week. They're handmade, go with everything, and are a total steal at just $24. Read Full Story People and PartiesBehind the blog with Apartment 34 - Style Me PrettyDIY InspirationGet ready for spring with these chic concrete planters - Little Green NotebookQuotation of the DayAlbert Hadley on traditional spaces - 1stdibs via Instagram Read Full Story
Lonny Blog - Home
fiona watson art's Photostream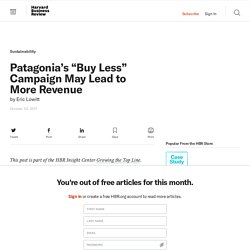 Patagonia's "Buy Less" Campaign May Lead to More Revenue - Eric Lowitt
by Eric Lowitt | 11:50 AM October 3, 2011 This post is part of the HBR Insight Center Growing the Top Line . Patagonia has always behaved as a maverick company, and its concern for sustainability has led it to pursue a new initiative: it's now actively encouraging consumers to buy less of Patagonia's new apparel.
Ottodesign - Milano
Thunderhouse
Monstro
Scratch n' Sniff
Anodyne
about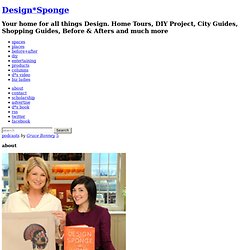 Photo by Peter Yang for Bon Appetit Design*Sponge is a design blog run by Brooklyn-based writer, Grace Bonney. Launched in August of 2004, the site updates between 6-8 times per day and was declared a " Martha Stewart Living for the Millennials" by the New York Times . Design*Sponge attracts a diverse group of devoted readers across the globe. Design*Sponge currently has 75,000 daily readers on the main site, over 127,000+ RSS readers, 405,000+ Twitter followers and 70,000+ Facebook followers.
Emily Chalmers
Milleneufcentquatrevingtquatre
Luci Everett: Collect posters
r's adventure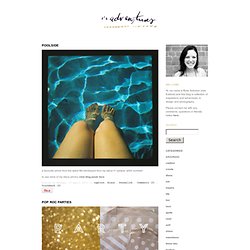 we had a busy, inspiring and productive weekend including trying the new fg smith eatery in ahuriri (if you go you have to have the ICE CREAM SANDWICH, it's in captials because it was AMAZING!), attended the world press photo exhibition (grim but superb), looked at a possible wedding venue (yes, that is a chandelier in the middle of the bush) and also finished creating some thank you tags for my friend's new business (check back later in the week to see more). phew! good thing we've got a four day weekend coming up!
Chuck Blakeman / Traditional Branding Isn't for Small Business
As we start out, we take cues from Giant Corporation, Inc. that we should develop cool logos, fancy brochures, zippy websites, and catchy copy. But this is a waste of time and money for a lot of small businesses and a huge misdirection of focus. There is a better way for most of us. A janitorial supply company wrote a response in another blog promoting all this fancy "branding" (to which this blog is a response):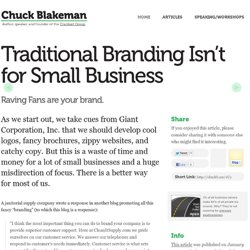 1776 Independence
Urbana
Plz Print Brush